Slow Cooker Jerk Chicken
Never had Jerk Chicken? Well, you're in for a treat. 'Jerk' is just a style of seasoning that hails from Jamaica, but with our easy slow cooker recipe, there's no need to travel all the way there to have it. The seasoning is traditionally either used as a dry rub or a wet marinade and is usually based on Scotch bonnet peppers and a fair bit of allspice. While we've subbed in red pepper flakes for the Scotch bonnet since it's easier to find around here, our crockpot version still maintains the flavor of that delectable spicy sauce and makes for a crowd-pleasing meal any night of the week.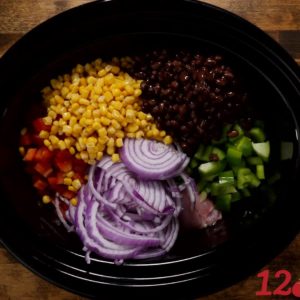 Ingredients
For the chicken:
3 pounds boneless, skinless chicken thighs
1 red bell pepper, seeds removed, diced
1 green bell pepper, seeds removed, diced
1 red onion, thinly sliced
1 (15 oz.) can black beans, rinsed and drained
1 (15 oz.) can whole corn kernels, rinsed and drained
2 limes
For the sauce:
⅓ cup water
¼ cup honey
1 lime, zested and juiced
2 tablespoons extra-virgin olive oil
4 cloves garlic, minced or crushed
2 teaspoons salt
½ teaspoon red pepper flakes
½ teaspoon cinnamon
½ teaspoon cumin
¼ teaspoon nutmeg
¼ teaspoon allspice
Instructions
Whisk together sauce ingredients (water, honey, lime juice and zest, olive oil, garlic, salt, red pepper flakes, cinnamon, cumin, nutmeg, and allspice) together in a medium bowl and set aside.
Place chicken in slow cooker and add in bell peppers, red onion, black beans, and corn.
Pour sauce over everything, then cover and cook on high for 3-4 hours, or until chicken is cooked through.
Optional: broil chicken for 3-5 minutes, or until browned.
Watch the recipe video here: