Spaetzle
Noodle-meets-dumpling: An Eastern European staple, spaetzle are tender and eggy and a great side dish for saucy mains or even a roast chicken.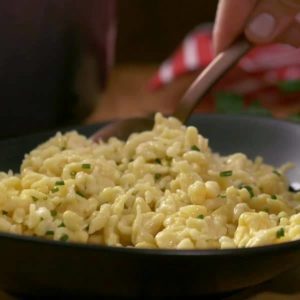 Ingredients
Kosher salt and freshly ground black pepper
1½ cups all-purpose flour
¼ teaspoon freshly grated nutmeg
3 large eggs, lightly beaten
½ cup whole milk
Nonstick cooking spray, for the colander
2 tablespoons unsalted butter, melted
1 tablespoon chopped fresh flat-leaf parsley or chives, optional
Instructions
Special equipment: a colander with ¼-inch-wide holes
Bring a large pot of salted water to a boil.
Whisk the flour with the nutmeg, 1 teaspoon salt, and a few grinds of pepper in a large bowl. Make a well in the center and add the eggs and milk. Gradually mix the milk and eggs into the flour to make a sticky batter.
Spray both sides of a colander with ¼-inch-wide holes (see Cook's Note) with cooking spray then spoon the batter into the colander. Hold the colander directly above the pot of boiling water (using an oven mitt if necessary) and working quickly, use a rubber spatula to push the batter through the holes into the water. Simmer until all of the spaetzle float to the surface and are tender, about 2 minutes. Drain and transfer to a bowl. Toss the spaetzle with the butter and sprinkle with herbs, if using.
Cook's Note
Use a spaetzle maker for bigger noodles.
Watch the recipe video here: