Slow-Cooker Pork Chops
Everyone will enjoy these fork-tender, slow cooker pork chops with a creamy, light gravy. Serve with a green vegetable, mashed potatoes and coleslaw or a salad. These are the best slow cooker pork chops.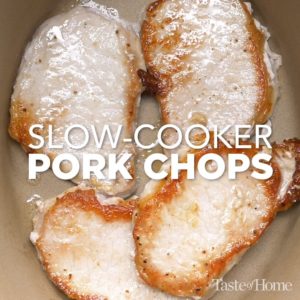 Ingredients
½ cup all-purpose flour, divided
½ teaspoon ground mustard
½ teaspoon garlic pepper blend
¼ teaspoon seasoned salt
4 boneless pork loin chops (4 ounces each)
2 tablespoons canola oil
1 can (14-1/2 ounces) chicken broth
Instructions
In a shallow bowl, combine ¼ cup flour, mustard, garlic pepper and seasoned salt. Add pork chops, one at a time, and dredge to coat. In a large skillet, brown chops in oil on both sides.
Transfer to a 5-qt. slow cooker. Pour broth over chops. Cook, covered, on low for 2-3 hours or until meat is tender.
Remove pork to a serving plate and keep warm. Whisk remaining flour into cooking juices until smooth; cook, covered, on high until gravy is thickened.
Watch the recipe video here:
Everyone will enjoy these fork-tender, slow cooker pork chops with a creamy, light gravy. Get the full recipe here –> https://trib.al/4I9zvar

Posted by Taste of Home on Tuesday, September 3, 2019