Seafood Spaghetti with Mussels and Shrimp
If you don't have a large enough pot to toss all the shellfish and pasta together, you can always transfer everything to the largest bowl or platter you have, or go old-school and just pour the sauce over the pasta at the table.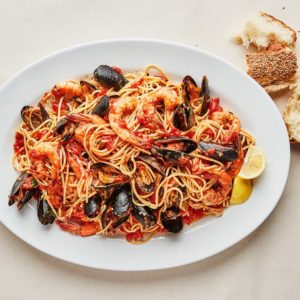 Ingredients
¼ cup extra-virgin olive oil
1 medium onion, finely chopped
4 garlic cloves, sliced
¾ teaspoon crushed red pepper flakes
3 tablespoons tomato paste
1 cup dry white wine
1 28-ounce can whole peeled tomatoes
Kosher salt
1 pound spaghetti
2 pounds mussels, scrubbed, debearded
2 pounds large shrimp, peeled, deveined
3 tablespoons unsalted butter
3 tablespoons finely chopped parsley
1 tablespoon fresh lemon juice
Lemon wedges (for serving)
Instructions
Heat oil in a large heavy pot over medium. Cook onion, stirring occasionally, until golden and softened, 8–10 minutes. Add garlic and red pepper flakes and season with salt. Cook, stirring often, until fragrant and garlic is softened, about 2 minutes. Add tomato paste and cook, stirring occasionally, until slightly darkened in color and starts sticking to bottom of pan, about 4 minutes. Add wine and cook, stirring often, until the smell of the alcohol is almost completely gone, about 4 minutes. Add tomatoes and juices, crushing with your hands, and increase heat to medium-high. Cook, stirring often, until sauce thickens slightly, 8–10 minutes. Taste and season sauce with salt.
Meanwhile, cook pasta in a large pot of boiling salted water, stirring occasionally, until very al dente, about 3 minutes less than package directions. Drain, reserving 1 cup pasta cooking liquid.
Add mussels, shrimp, and ¼ cup pasta cooking liquid to sauce. Cover and cook, shaking pot occasionally, until mussels open, about 4 minutes. Using tongs, pick out shrimp and mussels and transfer to a large bowl, discarding any mussels that have not opened. Loosely cover with foil to keep warm.
Add pasta and another ¼ cup pasta cooking liquid to sauce and stir to coat. Reduce heat to medium, add butter, and continue to cook, stirring and adding more pasta cooking liquid as needed, until sauce coats pasta, about 4 minutes. Remove from heat, return shrimp and mussels to pot, and carefully toss to combine. Mix in parsley and lemon juice.
Transfer pasta to a platter and serve with lemon wedges for squeezing over.
Watch the recipe video here: