Schwartz Sriracha Chicken Poppers
Bring a taste of the Thai street home with you this week with our new sriracha chicken poppers. Tender chicken breast, tangy dip and Schwartz's latest fiery seasoning all deliver bags of bite sized flavour. If this doesn't get you in the mood for spicy, sticky finger food, nothing will.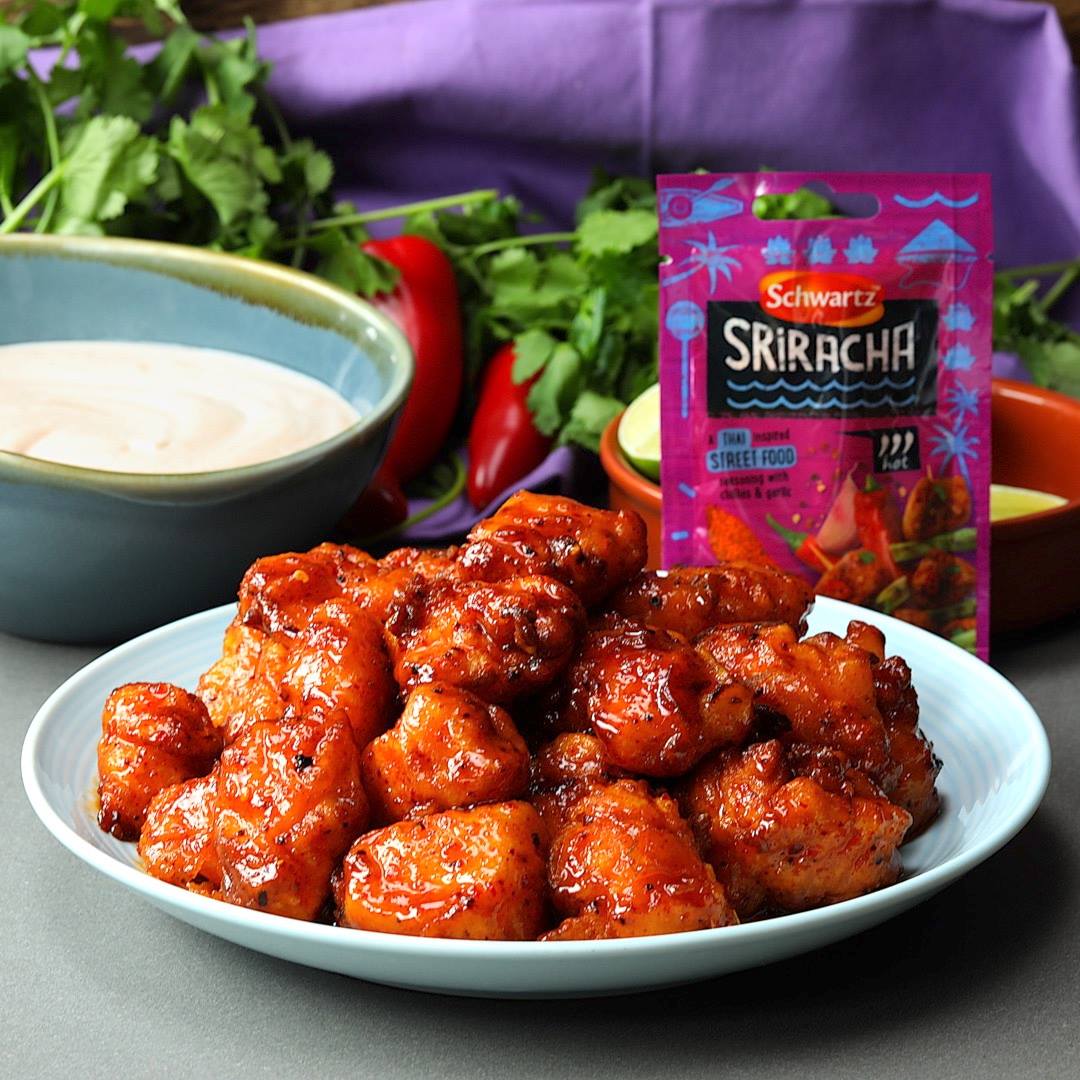 Ingredients
For the chicken:
3 chicken breasts, diced into 1" chunks
500ml buttermilk
1 tsp salt
½ sachet Schwartz Sriracha seasoning
For the dredge:
2 cups plain flour
½ cup cornflour
½ tsp salt
½ sachet Schwartz Sriracha seasoning
Glaze:
2 tbsp lime juice
5 tbsp butter
3 tbsp honey
2 tbsp soy sauce
½ sachet Schwarz Sriracha seasoning
Dip (Optional):
1 cup mayonnaise
½ cup sour cream
½ sachet Schwartz Sriracha seasoning
Oil, for frying
Lime wedges, for serving
Instructions
Mix together the ingredients for the chicken, cover and refrigerate for approx 2 hours. Combine ingredients for the dredge. Spoon a couple tbsp of the marinade into the flour and mix through. Dredge all of the chicken pieces in the flour. Fry in hot oil until lightly browned, crisp and cooked through. Drain on paper towel.
Meanwhile, make your glaze. Heat butter over medium heat until foaming subsides, then add remaining ingredients. Reduce slightly. Add to chicken poppers and toss to combine.
Mix together your Dip.
Enjoy!
Watch the recipe video here: