No-Bake Granola Berry Pie
This berry pie is perfect for summer, and you don't even need to turn on the oven ☀️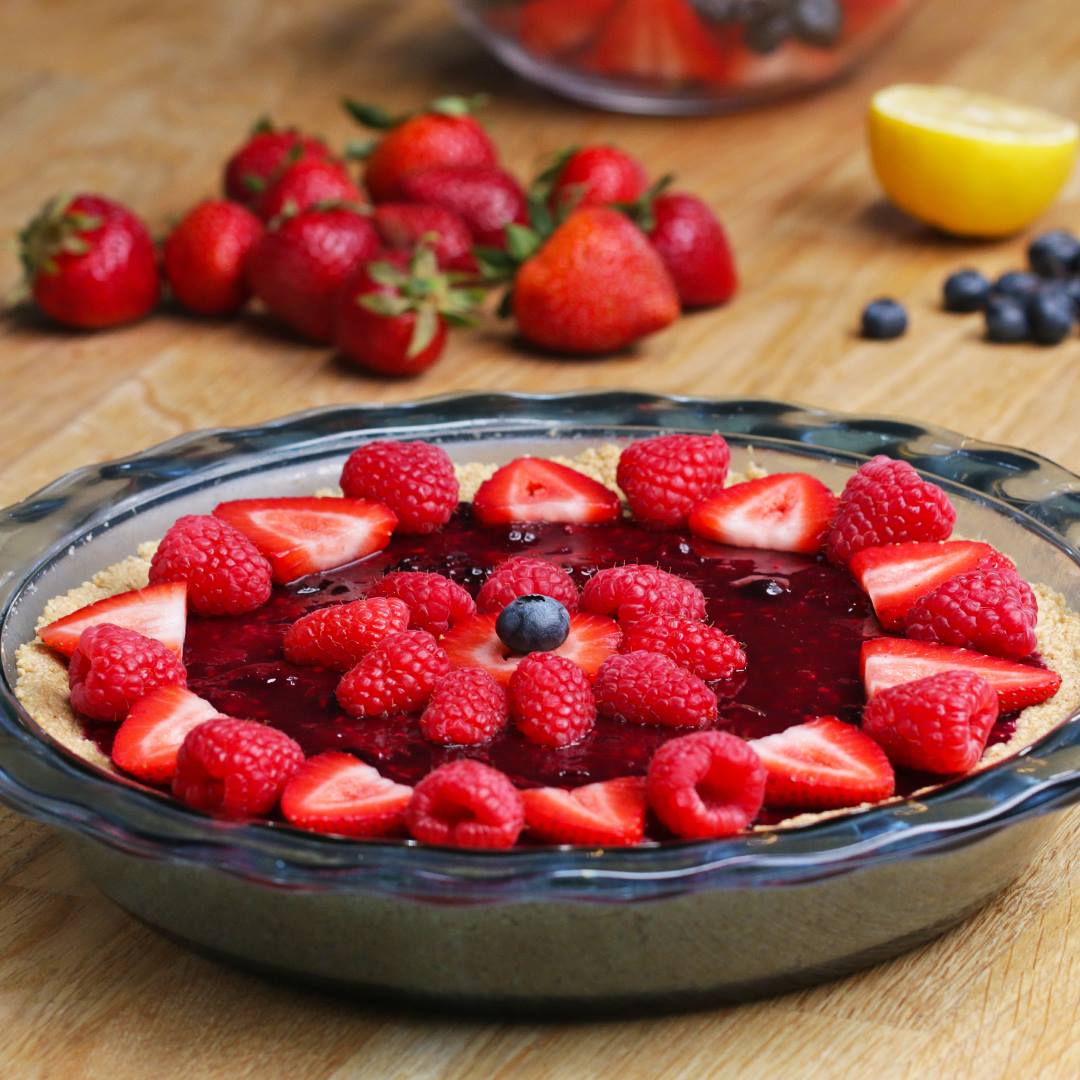 Ingredients
5 cups (120 g) granola
¾ cup (180 g) coconut oil, melted
1 tablespoon coconut oil, solid
1 cup (150 g) strawberry, sliced, plus more for garnish
1 cup (150 g) blackberry
1 cup (125 g) raspberry, plus more for garnish
1 cup (100 g) blueberry
½ cup (100 g) organic sugar
½ cup (120 mL) water, + 3 tablespoons, divided
2 tablespoons lemon juice
3 tablespoons cornstarch
Instructions
Add the granola to a food processor and process until fine crumbs form.
Add the melted coconut oil and pulse to combine.
Grease a 9-inch (23 cm) pie dish with the solid coconut oil.
Pour the granola mixture into the dish and press the crumbs firmly with the bottom of a measuring cup, making sure to cover the bottom and sides of the dish evenly. Place the pie dish into the refrigerator to firm up for an hour.
Meanwhile, combine the strawberries, blackberries, raspberries, blueberries, sugar, ½ cup (120 ml) water, and the lemon juice in a medium saucepan. Cook for 4-5 minutes. or until the sugar is dissolved and the berries begin to release their juices, creating a loose, deep red mixture.
In a small bowl, mix the cornstarch and remaining 3 tablespoons of water into a smooth paste. Add the cornstarch mixture to the berries and cook for another 2 minutes, until the filling thickens. Remove from the heat and let cool for 5 minutes.
Remove the chilled pie crust from the refrigerator and pour in the berry compote. Spread the filling evenly.
Chill the pie in the refrigerator for at least for 1 hour before serving.
Garnish with fresh berries to your taste.
Enjoy!
Watch the recipe video here:
This berry pie is perfect for summer, and you don't even need to turn on the oven ☀️FULL RECIPE: https://tasty.co/recipe/no-bake-granola-berry-pie

Posted by Tasty on Tuesday, August 7, 2018