Poori & Aloo Sabzi
Have you ever tried poori & aloo? Ritu and Swasti show us their recipe! ✨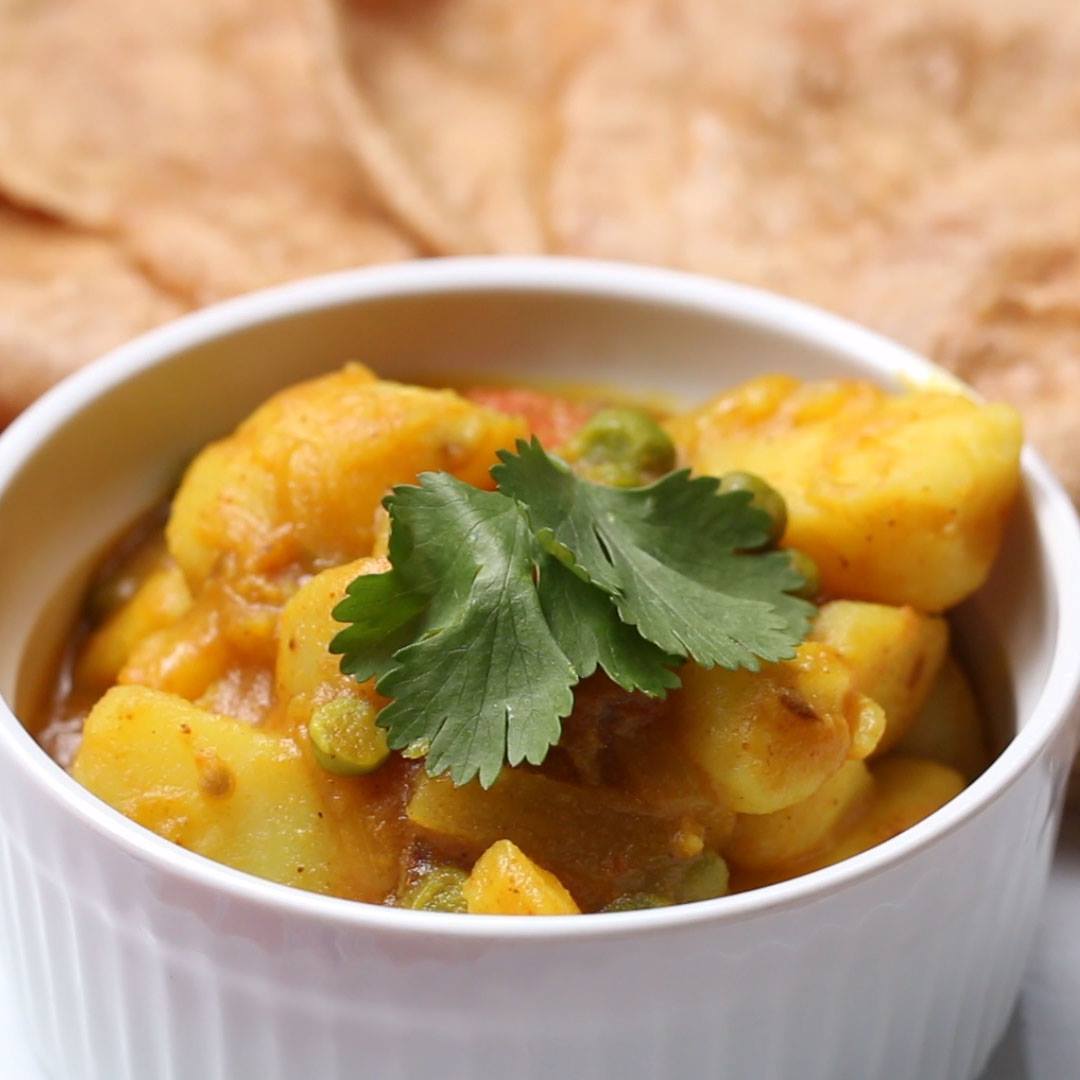 Ingredients
POORI
4 cups (500 g) whole wheat flour
1 tablespoon oil, plus more for dipping frying
1 cup (240 mL) water, or as needed
ALOO SABZIA
1 tablespoon ghee
1 teaspoon cumin seed
1 large white onion, thinly sliced
¼ teaspoon ginger, minced
½ teaspoon turmeric
1 large tomato, finely chopped
salt, to taste
1 ½ tablespoons curry powder
1 ½ lb (680 g) potato, cooked and peeled
½ cup (75 g) frozen peas, thawed
2 cups (480 mL) water
fresh cilantro leaves, for garnish
Instructions
Add the flour to a large bowl. Sprinkle the oil over the flour and mix with your hands. The mixture should feel like sand.
Add a bit of water at a time and knead into the flour. When the dough is ready, it should form a ball and not stick to your fingers.
Cover the dough with damp towel so it doesn't dry out.
Heat the oil in a deep pot until it reaches 350˚F (170˚C).
Form the dough into ping-pong size balls. Dip the balls into a small bowl of canola oil and roll them out into flat 2-inch (5 cm) circle shapes.
Immediately drop the rolled dough into the oil. Use a spider to keep the dough submerged in the oil. Once it is puffed up, turn over and cook other side. Fry until golden brown, 2-3 minutes.
ALOO: Melt the ghee in a large pot over medium heat. Once the ghee is completely melted, add the cumin seeds and toast until aromatic, 2-3 minutes.
Add the onion and ginger to the pot. Cover and cook until the onion is soft and translucent, about 5 minutes.
Add the turmeric and mix well. Add the chopped tomato and season with salt. Cover and cook until the tomato is very soft, about 10 minutes.
Add the curry powder and mix well. Add the potatoes and peas, and mix well to incorporate. Add the water, cover, and cook for 10 minutes, or until the soup thickens.
Garnish with cilantro.
Enjoy!
Watch the recipe video here: