Pollo Ciudad With Cilantro Sauce And Pickled Tomato Salsa
Have you ever tried pollo ciudad? Because Susan's recipe is AMAZING! ❤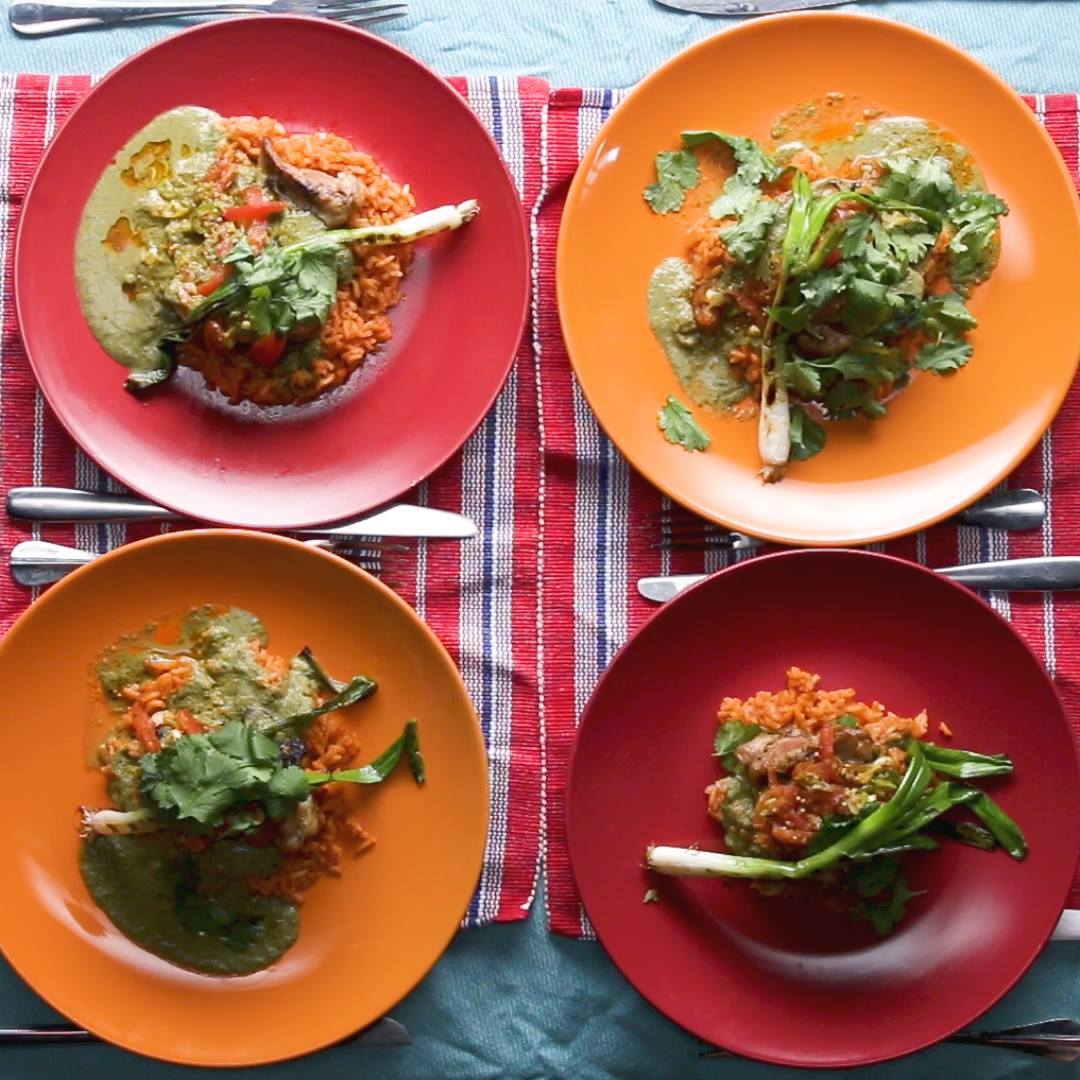 Ingredients
PICKLED TOMATO SALSA
1 lb (455 g) tomato
½ bunch scallions, white and green parts, thinly sliced
2 serrano chiles, with seeds, thinly sliced in rounds
½ cup (120 mL) white vinegar
2 ½ tablespoons brown sugar
2 teaspoons salt
½ cup (120 mL) olive oil
4 teaspoons ginger, freshly grated
1 tablespoon garlic, minced
2 teaspoons yellow mustard seeds
1 teaspoon cayenne
2 teaspoons ground cumin
½ teaspoon turmeric
2 teaspoons cracked black peppercorn
CHICKEN
4 skin-on, boneless chicken thighs
1 teaspoon salt
1 teaspoon ground black pepper
2 tablespoons vegetable oil
CILANTRO SAUCE
2 tablespoons unsalted butter
4 shallots, diced
salt, to taste
6 large mushrooms, thinly sliced
2 bunches fresh cilantro, stems and leaves seperated, chopped
1 ½ jalapeñoes, chopped with seeds
2 tablespoons ground cumin
2 cups (480 mL) chicken stock
¾ cup (180 mL) heavy cream, divided
3 egg yolks
3 tablespoons brown sugar
¼ cup (60 mL) red wine vinegar
3 cups (690 g) cooked rice, for serving
fresh cilantro leaves, for garnish
scallion, chopped, for garnish
Instructions
Make the pickled tomato salsa: Bring a medium pot of water to boil and set an ice bath nearby. Remove the cores from the tomatoes and score an "X" on the undersides. Blanch for 15 seconds in the boiling water, then immediately transfer to the ice bath to stop the cooking. Peel the skins with a paring knife, then seed and chop the tomatoes.
In a large bowl, toss the tomatoes with the scallions and serrano chiles.
In a medium saucepan, bring the vinegar to a boil. Add the sugar and salt and cook until dissolved, about 1 minute. Remove the pan from the heat and set aside.
Heat the olive oil in a separate medium saucepan over medium heat until just smoking. Add the ginger, garlic, mustard seeds, cayenne, cumin, turmeric, and peppercorns and cook, stirring constantly with a wooden spoon, until fragrant, about 2 minutes.
Pour the spice mixture over the tomatoes, followed by the vinegar mixture. Stir to combine, cover with plastic wrap, and refrigerate for 3-4 hours or several days.
Make the chicken: Preheat the oven to 400°F (200°C).
Season the chicken all over with salt and pepper.
Heat the oil in a large cast iron pan over high heat. Add the chicken skin-side down and cook for about 9 minutes, until the skin is golden brown and releases easily from the pan. Flip the chicken and finish cooking in the oven for 10 minutes, until cooked through.
Make the cilantro sauce. Melt the butter in a medium skillet over medium heat. Add the shallots and season with salt, then cook until starting to brown. Add the mushrooms and cook until soft and golden, about 10 minutes.
Add the cilantro stems and leaves, reserving about ½ a bunch of leaves for later on. Add the cumin and jalapeños, reduce the heat to low, and cook for 5 minutes. Add the chicken stock. Increase the heat to high and cook until the liquid is reduced by half.
Add the cream and return to a boil. Remove the pan from the heat. Transfer the sauce to a blender with the reserved cilantro leaves and puree. Return the sauce to the pan.
Whisk the egg yolks, sugar, and vinegar together in a small bowl. While continuing to whisk, pour 1 cup (290 G) of the sauce into the egg mixture to temper. Add the egg mixture to the pan and cook over low heat, stirring constantly, until the sauce is thick and smooth.
Arrange the chicken over a bed of your favorite rice and spoon the cilantro sauce over. Garnish with the Pickled Tomato Salsa, scallions, and cilantro leaves. Serve immediately.
Enjoy!
Watch the recipe video here:
Pollo Ciudad as made by Susan Feniger

Have you ever tried pollo ciudad? Because Susan's recipe is AMAZING! ❤️FULL RECIPE: https://tasty.co/recipe/pollo-ciudad-with-cilantro-sauce-and-pickled-tomato-salsa

Posted by Tasty on Friday, June 29, 2018