Pineapple Upside-down Cheesecake
This pineapple upsidedown cheesecake is worth standing on your head for.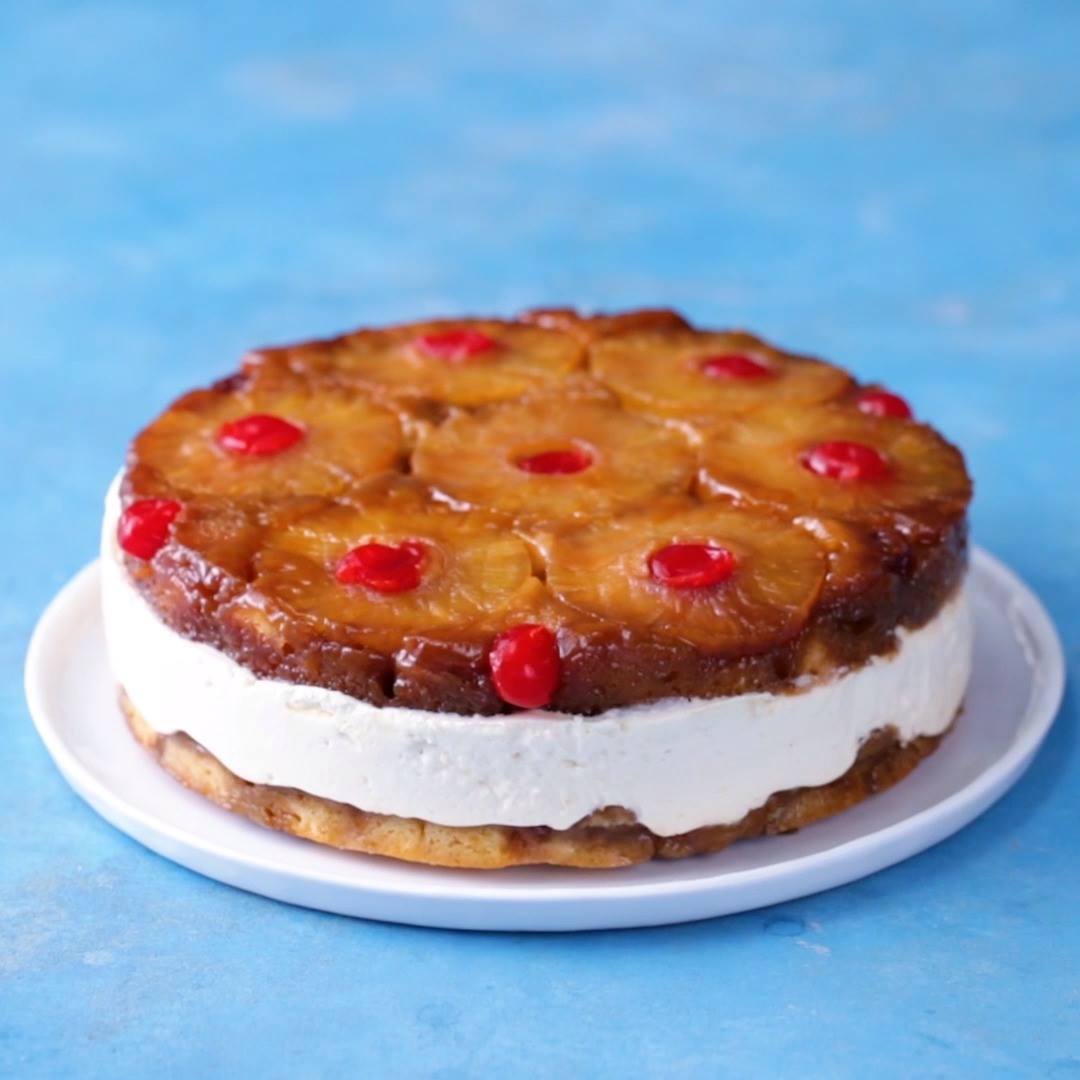 Ingredients
For the pineapple cake:
2½ sticks butter, divided, at room temperature
½ cup dark brown sugar
1 (14-ounce) can pineapple rings, drained with ⅛ cup of juice reserved
20 maraschino cherries, drained
¾ cup sugar
2 large eggs
1 teaspoon vanilla extract
1½ cups all-purpose flour
1 teaspoon salt
¼ teaspoon baking soda
½ teaspoon baking powder
½ cup sour cream
For the cheesecake filling:
2 cups cream cheese, softened at room temperature
1 (14-ounce) can sweetened condensed milk
Zest and juice of 1 lemon
2 teaspoons vanilla extract
Instructions
Make the pineapple upside down cake:
Preheat the oven to 350 degrees, and line two 9-inch pans with parchment and baking spray.
In a small bowl, cream one stick of butter with brown sugar. Divide between prepared pans and spread to form an even layer in the pan. Place pineapple rings on top of the brown sugar mixture and place cherries inside of the rings and to fill the spaces in between the rings. Set aside.
In a large bowl, cream remaining butter with sugar. Add eggs one at a time and then the vanilla. Stir in flour, salt, baking powder and baking soda until combined. Fold in sour cream and pineapple juice and divide batter between prepared pans. Bake for 30 to 35 minutes until cake is golden and a toothpick comes out clean. Allow to cool 15 minutes and then flip out onto a cooling rack, taking care to keep pineapple and cherries intact.
For the cheesecake filling:
In a large bowl, beat cream cheese until smooth. Stir in sweetened condensed milk, lemon zest and juice and vanilla. Place on bottom half of the cooled pineapple. Place in the freezer and allow to set for up to 1 hour. Remove cake from freezer and top with remaining layer of pineapple upside down cake. Cake will keep up to 3 days covered in the refrigerator.
Watch the recipe video here: