Peanut Butter and Jelly Crescent Roll-Ups
Peanut butter and jelly get rolled up in Pillsbury™ crescent dough, fried and coated with sugar for a delicious treat kids are bound to go crazy for.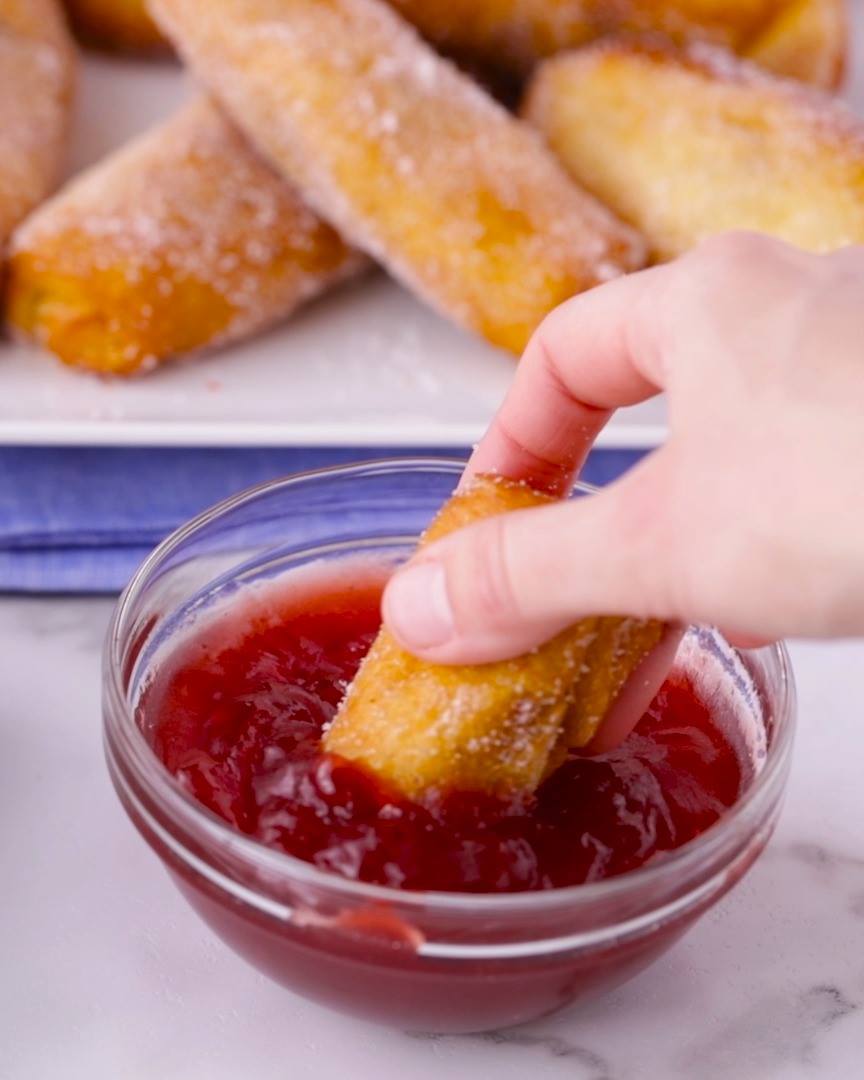 Ingredients
3 cups vegetable oil, for frying
2 oz (from 8-oz package) cream cheese, softened
½ cup creamy peanut butter
½ cup plus 2 tablespoons sugar
2 cans (8 oz each) Pillsbury™ refrigerated crescent dough sheet
1¼ cups seedless strawberry jam
Instructions
In 2-quart heavy saucepan, heat oil over medium heat to 350°F. In small bowl, mix cream cheese, peanut butter and 2 tablespoons sugar until well blended. Place remaining ½ cup sugar on plate. Set aside.
Unroll 1 dough sheet on lightly floured work surface; reshape into 12x8-inch rectangle. With pizza cutter or sharp knife, cut dough sheet into 6 squares, 4x4-inches each. Repeat with second can of dough.
Gently spread generous tablespoon peanut butter filling in center of each square, leaving ¼-inch edge. Gently spread 1 teaspoon jam on peanut butter filling. For each roll-up, roll side closest to you up over filling, to opposite side. Pinch seam into dough to secure filling in roll-up.
Gently place 2 roll-ups in hot oil; fry on one side until golden brown. With tongs, gently turn each roll-up over; fry until other side is deep golden brown, about 2 minutes total. Remove roll-ups from oil onto paper towel-lined cookie sheet. Let drain. Place roll-ups in sugar on plate, and turn to coat all sides. Remove, and place on cooling rack; cool 10 minutes.
When ready to serve, in small microwavable bowl, place remaining 1 cup jam; microwave uncovered on High 10 to 15 seconds or until warmed and able to stir smooth. Serve with roll-ups.
Watch the recipe video here: