No Carb Philly Cheesesteaks
Make your favorite sandwich without the carbs.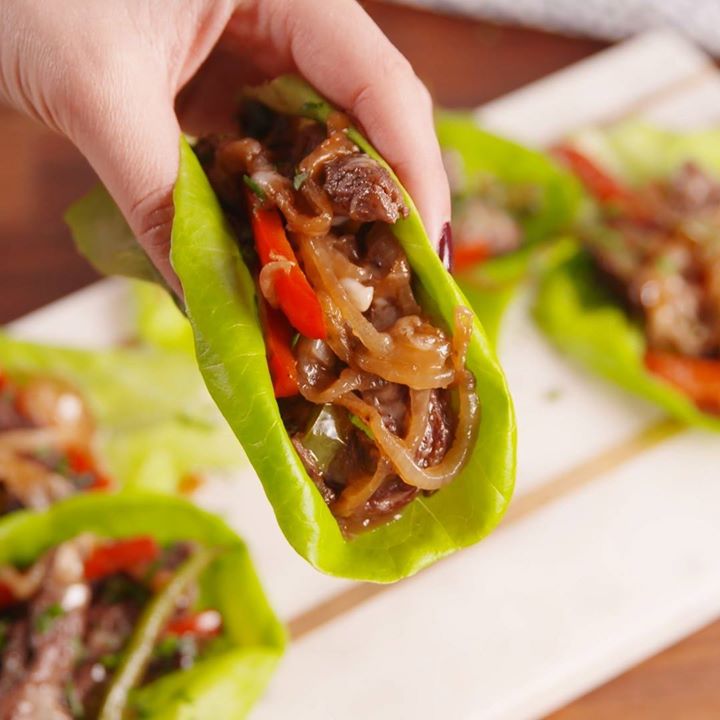 Ingredients
2 tbsp. vegetable oil, divided
1 large onion, thinly sliced
2 large bell peppers, thinly sliced
1 tsp. dried oregano
kosher salt
Freshly ground black pepper
1 lb. skirt steak, thinly sliced
1 c. shredded provolone
8 large butterhead lettuce leaves
1 tbsp. chopped parsley
Instructions
Heat 1 tablespoon of oil in a large skillet over medium heat, then add onion and bell peppers. Season with oregano, salt and pepper. Cook, stirring often, until the onions and peppers are tender, about 5 minutes. Remove peppers and onions from skillet and heat remaining oil in skillet.
Add steak in a single layer and season with salt and pepper. Cook until the steak is seared on one side, about 2 minutes. Flip and cook until the steak is seared on the second side and is cooked to your liking, about 2 minutes more for medium.
Add onion mixture back to skillet and toss to combine. Sprinkle provolone over steak and onions then cover skillet with a tight-fitting lid and cook until the cheese has melted, about 1 minute. Remove from heat.
Arrange lettuce on a serving platter. Scoop steak mixture onto each piece of lettuce. Garnish with parsley and serve warm.
Watch the recipe video here: