No-Bake Chocolate Chunk Cookies & Cream Brownie Cheesecake
This velvety no-bake chocolate cheesecake is full of chocolate bar bites and topped with cookies and cream frosting.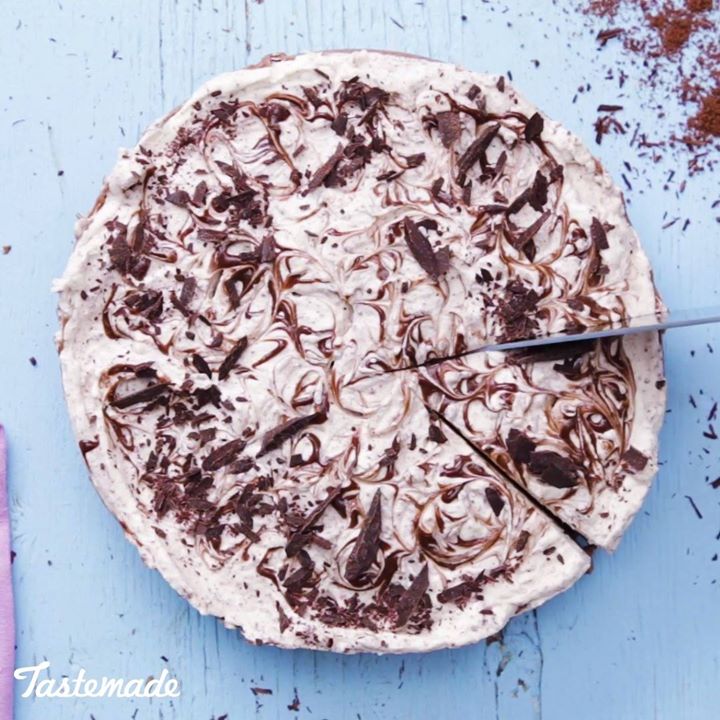 Ingredients
For the cheesecake:
1½ cups finely ground chocolate cookie crumbs
3 tablespoons unsalted butter, melted
3 (8-ounce) packages cream cheese, softened
½ cup sugar
1 teaspoon vanilla extract
¾ cup heavy cream
1 package brownie mix (reserve 1 tablespoon for glaze)
2 (1-ounce) chocolate bars, cut into chunks, plus more for garnish
For the cookies and cream whipped cream frosting:
1 cup heavy cream
½ cup powdered sugar
1 teaspoon vanilla extract
¼ cup finely ground chocolate cookie crumbs
For the brownie glaze:
1 tablespoon brownie mix
2 teaspoons grapeseed oil
1 tablespoon heavy cream
1 tablespoon chocolate syrup
Instructions
Grease the sides of a 9-inch springform cake pan and prepare the bottom with parchment paper.
In a large bowl, combine cookie crumbs and melted butter. Press into the base of the cake pan and chill for 15 minutes.
With a hand mixer, beat the cream cheese, sugar, vanilla extract, heavy cream and brownie mix. Fold in chocolate bar chunks and pour into the cake pan. Refrigerate for 4 hours.
In a large bowl, combine heavy cream, powdered sugar and vanilla. Beat until stiff peaks form. Fold in cookies.
In a separate smaller bowl, combine remaining brownie mix, grapeseed oil, heavy cream and chocolate syrup.
Once the cheesecake has set, cover in whipped cream, drizzle with brownie glaze and sprinkle with shavings of remaining chocolate.
Watch the recipe video here: