Mississippi Mud Cake
For all of you chocolate lovers out there…three words–Mississippi Mud Cake. By far, the most delicious cake I have tasted in quite some time! It's so moist and gooey, I just can't get enough! The simplicity of it alone makes it worth every bite! Done!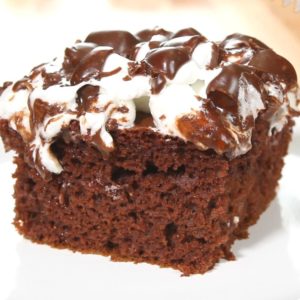 Ingredients
One Chocolate Cake, baked in a 9×13" pan
1 10.5oz bag of miniature marshmallows
For the frosting:
⅓ CUP Butter
⅓ CUP Milk
⅓ CUP Cocoa powder
1 tsp Vanilla extract
3 CUPS Powdered sugar
Instructions
Bake chocolate cake according to instructions.
Remove cake from oven and sprinkle marshmallows all over the cake, completely covering it.
Return to oven (at 350 degrees°F) for 2-3 minutes or until the marshmallows are just slightly puffed and melted.
Allow cake to cool completely before drizzling frosting on top.
For the frosting: Melt butter in a small saucepan over medium-high heat.
Add milk and cocoa powder and whisk well.
Cook for about 2-3 more minutes, stirring constantly, until mixture has thickened slightly.
Remove from heat and stir in vanilla and powdered sugar.
Use an electric mixer to make the frosting smooth.
Drizzle warm frosting immediately over cake.
Enjoy!
Watch the recipe video here: