Loco Moco
Guy Fieri makes his version of Hawaiian Loco Moco!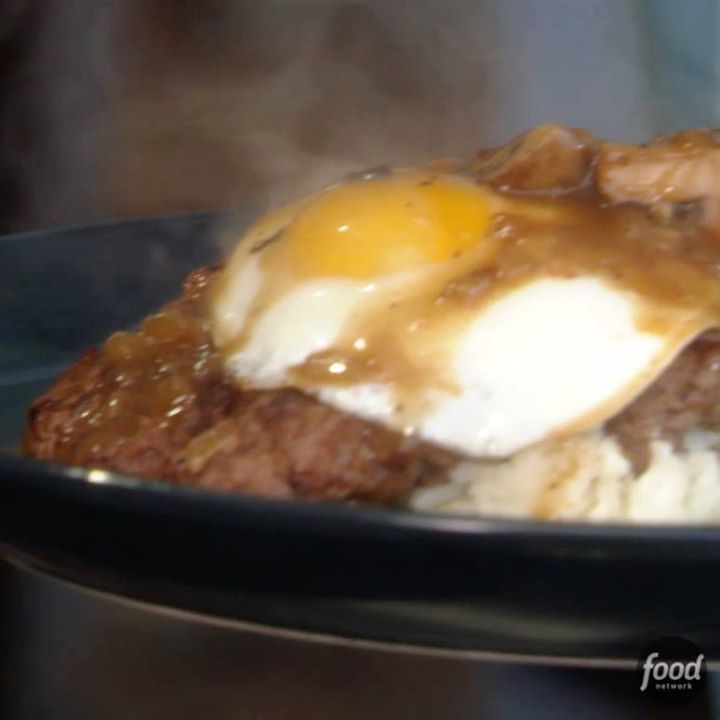 Ingredients
Rice:
2 cups long grain rice
3½ cups low-sodium chicken broth
Burgers:
1 pound ground beef (80/20 blend)
¼ cup diced Maui onion
Kosher salt and freshly cracked black pepper
Canola oil
Gravy:
1 tablespoon unsalted butter
¼ cup roughly chopped cremini mushrooms
¼ cup diced Maui onion
1½ cups low-sodium beef broth
1 teaspoon Worcestershire sauce
1 tablespoon cornstarch
Eggs:
Canola oil
4 large eggs
2 to 3 tablespoons chopped fresh flat-leaf parsley, for garnish, optional
¼ cup seeded and diced Roma tomato, for garnish, optional
Instructions
For the rice: Wash the rice under cold running water until the water runs clear. In a medium saucepot over high heat, bring the chicken broth to boil. Add the rice, cover and reduce the heat to low for about 15 minutes. Remove from the heat and let stand for 5 minutes. (Alternatively, add both the rinsed rice and the chicken broth to a rice cooker and turn the machine on - it will keep the rice warm until ready to serve.) Fluff with a fork and cover. Keep warm until ready for use.
For the burgers: Mix the ground beef, onions and some salt and pepper in a large mixing bowl. Form 4 medium patties and set aside.
Set a large cast-iron pan over high heat. Add a drizzle of canola oil and set the patties in the pan. Cover pan with a lid (or a second pan) to seal in the moisture and ensure juicy patties. Cook until well browned on first side, 3 to 4 minutes. Then remove the lid, flip over, replace the lid and continue cooking to desired doneness, about 3 minutes for medium-rare. Remove the burgers and keep warm.
For the gravy: Add the butter to the pan with the drippings. Saute the mushrooms and onions until golden brown, about 5 minutes. Add the beef broth and Worcestershire sauce, bring to a boil and reduce down for 2 to 3 minutes.
In a separate bowl, mix the cornstarch with 1 tablespoons water to make a smooth paste. Slowly add into the gravy, stirring constantly until thickened. Season with salt and pepper. Cover and keep warm until ready for use.
For the eggs: Add some canola oil to a nonstick saute pan over medium heat. Crack in the eggs and cook sunny-side up, 3 to 4 minutes. Remove and keep warm. (You can flip the eggs over-easy if you want them cooked a little more.)
To serve: Place the cooked rice on a plate, place the burgers on top, then the eggs and finally the gravy. Garnish with parsley and tomato if desired.
Watch the recipe video here:
Guy Fieri makes his version of Hawaiian Loco Moco!Guy hosts Part 3 of the #GroceryGames DDD Tournament tonight at 9|8c"

Posted by Food Network on Sunday, April 1, 2018