Kentucky Butter Cake
Moist and buttery cake made from readily available ingredients with a luscious butter sauce.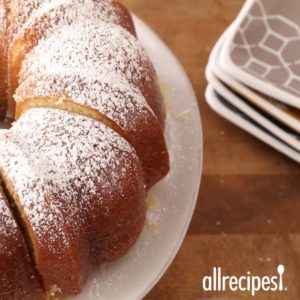 Ingredients
3 cups unbleached all-purpose flour
2 cups white sugar
1 teaspoon salt
1 teaspoon baking powder
½ teaspoon baking soda
1 cup buttermilk
1 cup butter
2 teaspoons vanilla extract
4 eggs
¾ cup white sugar
⅓ cup butter
3 tablespoons water
2 teaspoons vanilla extract
Instructions
Preheat oven to 325 degrees F (165 degrees C). Grease and flour a 10 inch Bundt pan.
In a large bowl, mix the flour, 2 cups sugar, salt, baking powder and baking soda. Blend in buttermilk, 1 cup of butter, 2 teaspoons of vanilla and 4 eggs. Beat for 3 minutes at medium speed. Pour batter into prepared pan.
Bake in preheated oven for 60 minutes, or until a wooden toothpick inserted into center of cake comes out clean. Prick holes in the still warm cake. Slowly pour sauce over cake. Let cake cool before removing from pan.
To Make Butter Sauce: In a saucepan combine the remaining ¾ cups sugar, ⅓ cup butter, 2 teaspoons vanilla, and the water. Cook over medium heat, until fully melted and combined, but do not boil.
Watch the recipe video here: