Instant Pot Jerk Chicken and Cornbread
This jerk chicken is a real finger-licking treat!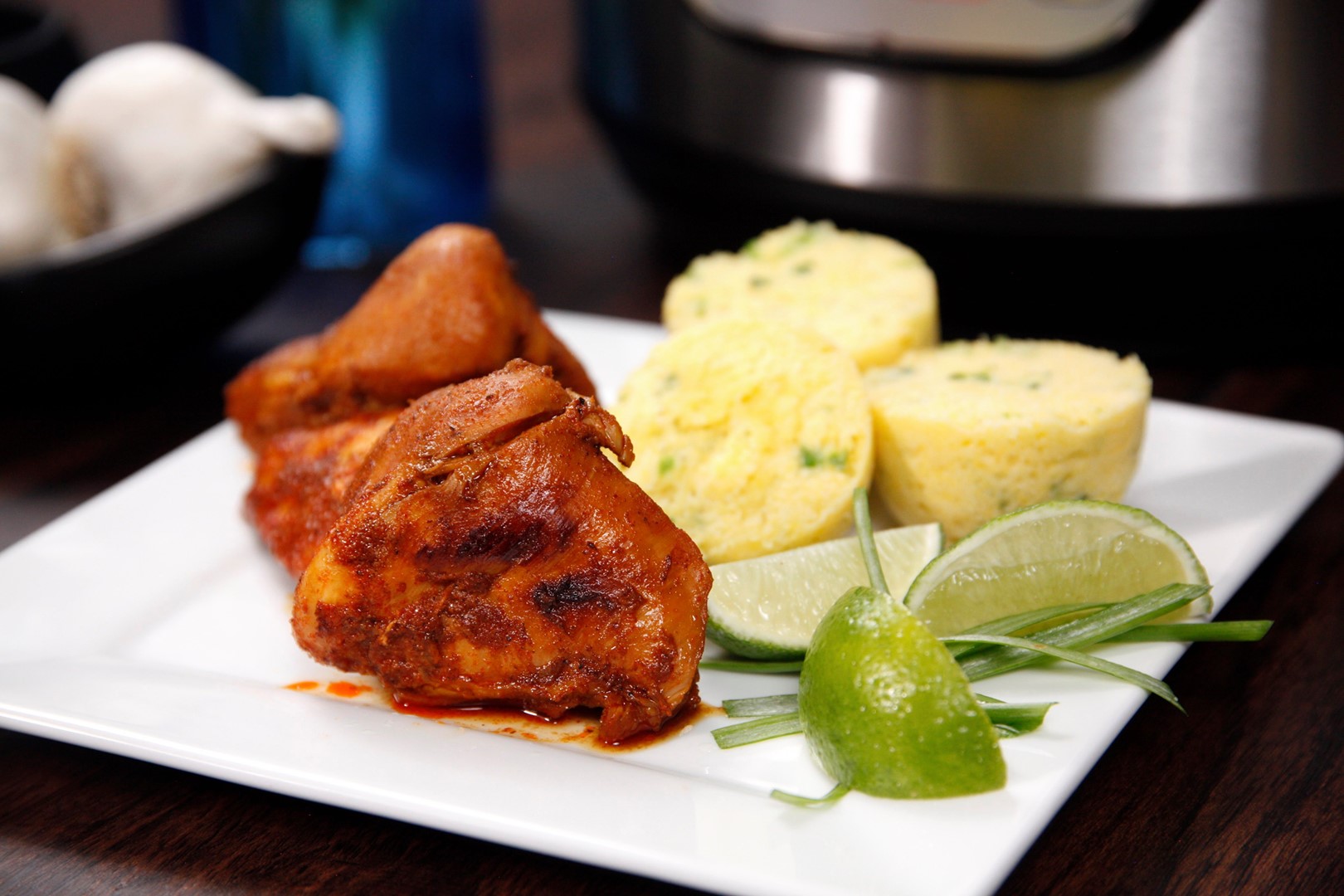 Ingredients
1 8.5 oz box corn muffin mix, prepared according to package directions
2 tbsp thinly sliced scallions
1 jalapeno, seeded and minced
1 tbsp olive oil
⅓ cup chicken broth
2 lbs boneless, skinless chicken thighs
Lime wedges and additional sliced scallions for garnish (optional)
Jerk Mixture
2 tbsp molasses
2 tbsp lime juice
2 tbsp paprika
1½ tbsp olive oil
1½ tbsp garlic powder
1½ tsp allspice
1 tsp ground nutmeg
1 tsp kosher salt
¾ tsp cayenne, or to taste
¼ tsp pepper
Instructions
Prepare corn muffin mix according to package directions, then stir in sliced scallions and minced jalapeno.
Coat the inside of a silicone egg bite mold with nonstick spray (we love these: https://amzn.to/2Q2dnyq).
Divide corn muffin batter into the egg bite molds. Tap on the counter to even the batter and release and bubbles. Cover loosely with foil–do not seal.
In a medium bowl, combine the Jerk Mixture ingredients and stir until uniform. Reserve half the jerk mixture and set aside.
Add olive oil to the Instant Pot. Using the display panel select the SAUTE function.
Coat the chicken thighs in the remaining jerk mixture, then brown the chicken on both sides, 3-4 minutes per side. Meat will not be cooked through. Do not crowd the pot–you may have to work in batches. Transfer browned meat to a shallow dish and cover loosely with foil.
Add broth to the pot and deglaze by using a wooden spoon to scrape the brown bits from the bottom of the pot.
Add chicken to the pot in an even layer, then spread remaining jerk mixture on the chicken.
Insert the steam rack (for neatest results, we prefer using a riser like this one: https://amzn.to/2xTvP5g) and lower the egg bite mold onto the riser using a foil sling.
Turn the pot off by selecting CANCEL, then secure the lid, making sure the vent is closed.
Using the display panel select the MANUAL function*. Use the +/- keys and program the Instant Pot for 10 minutes.
When the time is up, let the pressure naturally release for 5 minutes, then quick-release the remaining pressure.
Serve the chicken with cornbread. Garnish with lime wedges and additional sliced scallions, if desired..
Watch the recipe video here: