GRILLED HAWAIIAN TERIYAKI BURGER
This easy Hawaiian teriyaki burger is made with lean ground beef, carrots, scallions and topped with grilled pineapple and a homemade pineapple teriyaki sauce.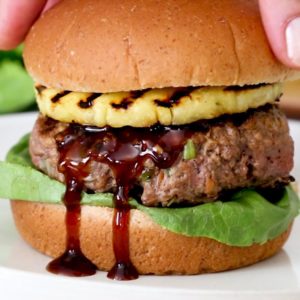 Ingredients
2 lbs 93% ground beef
½ cup grated carrots
½ cup chopped scallions
1 tsp fresh grated ginger
1 tbsp reduced sodium soy sauce
1 tsp sriracha sauce, or more if you like it spicy
8 slices fresh pineapple
8 whole wheat 100 calorie buns, I used Martin's
8 lettuce leaves
For the pineapple teriyaki sauce:
½ tbsp cornstarch
¼ cup cold water
¼ cup low sodium soy sauce
½ cup pineapple juice
3 tbsp brown sugar
½ teaspoon fresh grated ginger, very fine
1 small garlic clove, minced
Instructions
For the burgers:
Gently combine the ground beef with grated carrots, scallions, ginger, soy sauce and sriracha sauce.
Form into 8 equal sized patties, try not to overwork the meat so it doesn't get tough.
For the teriyaki sauce:
Combine the cornstarch in cold water and dissolve. Set aside.
Mix soy sauce, pineapple juice, brown sugar, grated ginger and garlic in small saucepan over medium-low heat; bring to a boil and simmer until sauce reduces, about 15 to 18 minutes.
Add cornstarch water mixture and simmer until thick, about 2 minutes. Remove from heat and set aside to cool.
Heat the grill. When hot clean the grates and spray with oil.
Place the patties on the grill and cook on high heat for about 5 to 7 minutes on each side, or until burgers are cooked to your liking.
While the burgers are cooking, grill the pineapple slices for about 2 to 3 minutes on each side.
To serve, place a piece of lettuce on the bottom of each burger bun. Top with the cooked burger and 1 tbsp of teriyaki sauce, then top with grilled pineapple.
Watch the recipe video here:
These Hawaiian Teriyaki Burgers are mouthwatering!!7 Freestyle Points • 330 CaloriesPRINT: https://www.skinnytaste.com/grilled-hawaiian-teriyaki-burger/

Posted by Skinnytaste on Sunday, June 30, 2019