Enjoy Chocolate Turtle Poke Cake All Year Round
Enjoy Chocolate Turtle Poke Cake All Year Round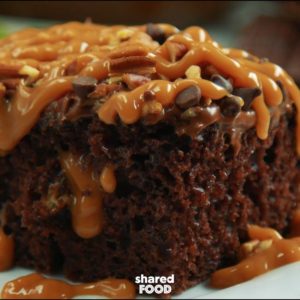 Ingredients
1 package chocolate cake mix, plus ingredients listed on the box.
12 ounces caramel sauce
½ cup mini chocolate chips
¾ cup pecan pieces
1 tub(16 ounces) chocolate frosting
Instructions
Prepare cake mix according to package directions, and bake in 9 x 13 pan. Let cool for 10 minutes.
Using the handle of a wooden spoon, make small holes all over the surface of the cake. Pour 8 ounces of the caramel ice cream topping over the cake, spreading to cover. Let sit until cooled.
Mix 4 oz of caramel with the chocolate icing.
Spread the frosting over the cooled cake.
Sprinkle with pecans and chocolate chips.
Drizzle with the remaining caramel sauce, and sprinkle with the mini chocolate chips and pecans.
Watch the recipe video here: