Stuffed Meatball Pie
Stuffed Meatball Pie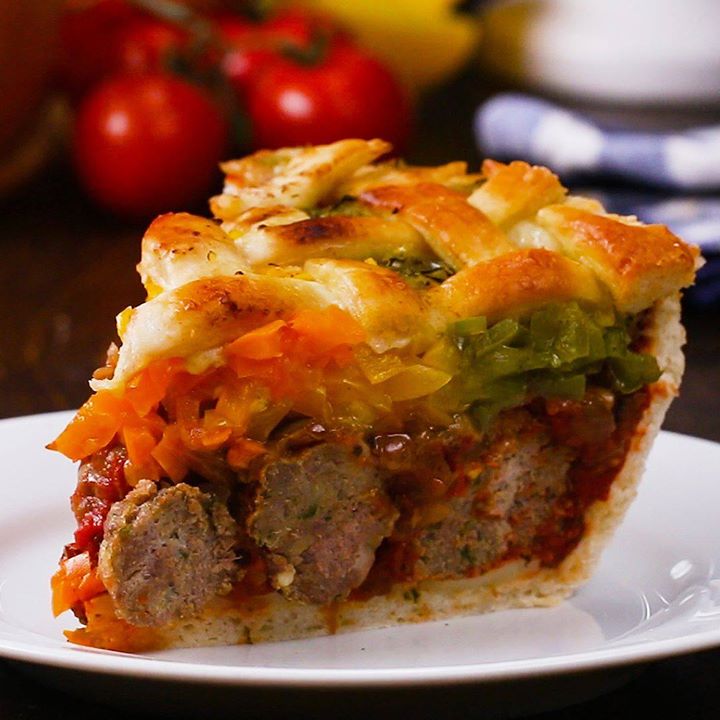 Ingredients
1 lb pizza dough, divided
2 tablespoons olive oil
8 cloves garlic, minced, divided
salt, to taste
pepper, to taste
3 cups tomato puree
1 tablespoon dried basil
1 tablespoon dried oregano
12 oz tomato paste
1 lb low moisture mozzarella, sliced
2 lb meatballs
2 cups caramelized onions
3 cups bell peppers, chopped, sauteed
Parmesan, to serve
Instructions
Preheat oven to 450°F (230°C).
Cut a 1 pound ball of pizza dough in half and roll out two large discs of dough.
Spray the inside of a springform pan with cooking spray and lay in one of the dough discs. Press the dough into the corners.
Sprinkle the olive oil, 2 cloves of the minced garlic, salt, and pepper on the dough and brush to cover the surface. Press the bottom of the dough with a fork.
Bake until the dough is cooked and lightly golden brown, 15 minutes.
Mix together the tomato puree, dried basil, 4 cloves of minced garlic, dried oregano, and tomato paste in a bowl. Season to taste with salt and pepper.
Into the partially cooked bottom layer of pizza dough, shingle a layer of mozzarella slices and then a layer of the homemade marinara sauce.
Spiral the meatballs in the dish as tightly as possible. Cover with more marinara sauce.
Add a layer of caramelized onions, and more sliced mozzarella.
Add the green, yellow, and orange bell peppers on top of the mozzarella.
Cut the second piece of dough into strips to form into a lattice pattern on top of the pie.
Brush with 2 tablespoons more of olive oil, 2 cloves minced garlic, and kosher salt.
Bake for 40 minutes to an hour, or until the dough on top is browned and the sauce, meatballs, and cheese are heated through.
Slice the pie, serve with extra marinara sauce and grated parmesan.
Enjoy!
Watch the recipe video here:
Cloudy with a chance of meatball pie ?…FULL RECIPE: https://tasty.co/recipe/stuffed-meatball-pieShop our essential products RIGHT HERE: http://bit.ly/2BR0S1D – we may make some $$ if you buy!

Posted by Tasty on Tuesday, December 26, 2017