EGGPLANT "MEATBALLS"
Hearty eggplant is one of the best vegetable substitutes to make these luscious, meatless "meatballs".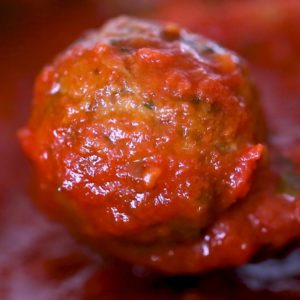 Ingredients
cooking spray
½ tbsp olive oil
1¼ lbs unpeeled eggplant, cut into 1-inch pieces
kosher salt
¼ tsp black pepper
2 garlic cloves, crushed
2 tbsp chopped basil, plus leaves for garnish
1½ cups Italian seasoned breadcrumbs
1 large egg, beaten
2 ounces Pecorino Romano cheese, freshly grated, plus more for serving
1 tablespoon chopped flat-leaf parsley
1 25.25 ounce jar DeLallo Pomodoro sauce
part skim ricotta cheese, for serving (optional)
Instructions
Heat the oven to 375°F. Spray a large rimmed baking sheet with cooking spray.
Place ½ tablespoon olive oil in a large nonstick skillet over medium high heat. When hot add the eggplant and ¼ cup water. Season with salt and pepper to taste and cook, stirring occasionally until tender, 10 to 12 minutes. Transfer to the bowl of a food processor and pulse a few times.
Transfer to a bowl and add bread crumbs, beaten egg, Romano cheese, parsley, garlic and chopped basil into the eggplant. Season with ½ teaspoon kosher salt and ⅛ teaspoon of pepper.
Form the eggplant mixture into 24 balls about 1⅛ oz each, rolling tightly and transfer to the prepared baking sheet. Bake until firm and browned, about 20 to 25 minutes.
Heat the sauce in a large deep skillet to warm the sauce. Add the meatballs to the sauce and simmer for 5 minutes. Garnish the meatballs with basil leaves and serve with ricotta cheese if desired.
Watch the recipe video here:
Vegetarian Eggplant "Meatballs" Serve these luscious, meatless "meatballs" over pasta, zoodles or with some crusty…

Posted by Skinnytaste on Monday, July 8, 2019