Coffee Cake Roll Cake
Enjoy this airy coffee cake filled with espresso whipped cream and topped with chocolate buttercream and a brown sugar pecan crumble.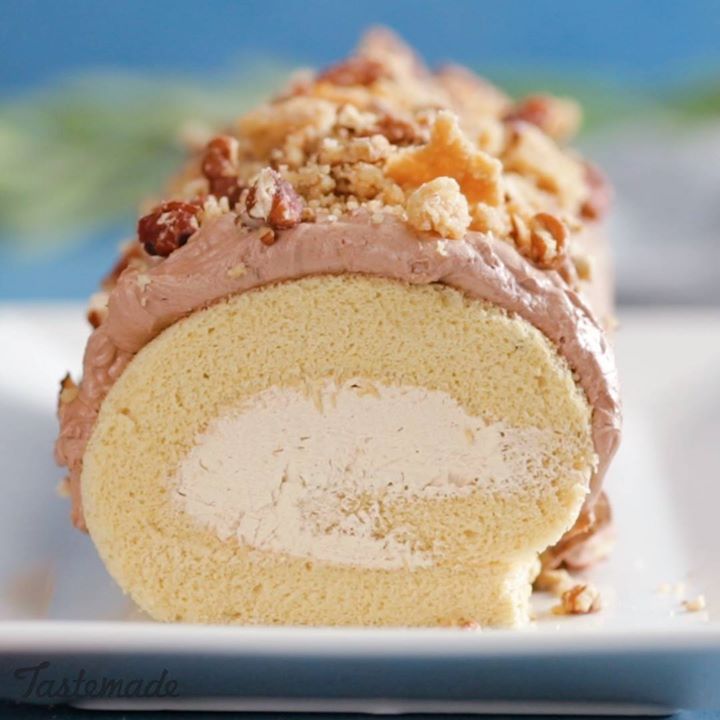 Ingredients
For the coffee sponge cake:
4 eggs, divided, at room temperature
6 tablespoons caster sugar, divided
3 tablespoons milk, room temperature
3 tablespoons vegetable oil
½ teaspoon vanilla extract
¼ cup all-purpose flour, sifted
1½ teaspoons espresso powder
3 tablespoons cornstarch
½ teaspoon cream of tartar
For the espresso whipped cream:
2 cups cold cream
¼ cup sugar
½ teaspoon vanilla extract
½ teaspoon instant espresso powder
For crumb topping:
¾ cup flour
⅔ cup brown sugar
¼ cup chopped pecans
Pinch salt
1 stick of butter
For decoration:
1½ cups chocolate buttercream
Chopped pecans
Instructions
For the cake: Preheat oven to 350 degrees. Butter a roll cake sheet pan and line with parchment paper.
In a mixing bowl, whisk together yolks and 3 tablespoons sugar until the sugar is dissolved. Whisk in milk, vegetable oil and vanilla until smooth. Sift in flour, espresso powder and cornstarch and whisk until smooth.
In the bowl of a stand mixer, whip egg whites until frothy, then add cream of tartar. Whip at medium-low speed for 2 minutes, then gradually add remaining sugar. Whip on medium-high until stiff peaks form. Fold the egg white mixture into the egg yolk mixture.
Pour the batter into the pan. Tap the pan on the counter to avoid air bubbles. Bake for 20 to 25 minutes until fluffy. Cake should spring back when touched. Remove parchment paper, and cool cake on a drying rack covered with a towel.
For the espresso whipped cream: With a hand mixer, beat cream and sugar until light and fluffy. Add in vanilla and espresso powder.
For the crumb topping: Preheat oven to 350 degrees. Mix all ingredients in a small bowl, crumble and bake on a parchment-lined sheet tray for about 12 to 15 minutes. Allow to cool.
For the assembly: Fill the cake with whipped cream and roll tightly. Wrap with plastic wrap and chill for about 2 hours or up to overnight. Remove from refrigerator and ice with chocolate buttercream. Top with crumb topping and more crushed pecans. Serve immediately.
Watch the recipe video here:
How do I like my eggs in the morning? Um, in a cake.Full Recipe: bit.ly/2EN31Ak

Posted by Tastemade on Tuesday, February 20, 2018