Cinnamon Tortilla Surprise
A sweet Mexican dessert I made for Spanish class.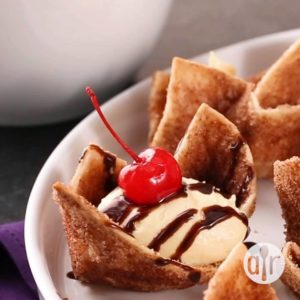 Ingredients
cooking spray
1 cup white sugar
1½ tablespoons ground cinnamon
10 large flour tortillas, cut into quarters
¼ cup melted butter, or as needed
1 cup milk
1 (8 ounce) package cream cheese, softened
2 (3 ounce) packages instant vanilla pudding mix
1 (16 ounce) container frozen whipped topping, thawed
2 tablespoons chocolate syrup, or as needed
40 maraschino cherries
Instructions
Preheat oven to 350 degrees F (175 degrees C). Spray 40 muffin cups with cooking spray.
Combine sugar and cinnamon together in a small bowl.
Brush both sides of flour tortilla pieces with melted butter; sprinkle each with cinnamon-sugar mixture. Gently fit each tortilla piece into a prepared muffin cup, shaping the tortilla to make a shell.
Bake in the preheated oven until tortilla shells are golden brown, 8 to 10 minutes.
Beat milk, cream cheese, and pudding mix in a bowl using an electric mixer until smooth; fold in whipped topping. Fill each tortilla shell with about 1 tablespoon cream cheese mixture. Drizzle with chocolate syrup and top each with a maraschino cherry.
Watch the recipe video here: