Cinco de Mayo Bullseye Fajita Cake
Cakes don't always need to be sweet, but they sure always take centre stage on the table. This Bullseye Fajita cake is perfect for when you can't decide which filling you like best, and it's perfect to serve up for a Cinco de Mayo party!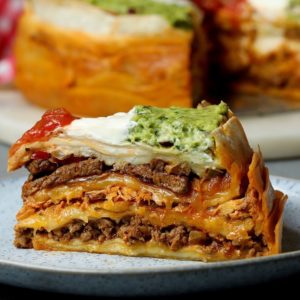 Ingredients
Taco Mix:
2 tsp oil
½ onion, diced
400g beef mince
2 garlic cloves, minced
1 tsp cumin powder
1 tsp paprika
1 tsp chili powder
¼ cup salsa
Salt and pepper to taste
Chicken Fajita:
2 tsp oil
½ onion, diced
1 cup diced mixed peppers
2 tsp fajita seasoning
2 chicken breasts, cooked, shredded
2 tbsp tomato paste
2 tbsp water
Steak Fajita:
½ onion, sliced
1 cup sliced mixed peppers
2 rump steaks, thinly sliced
2 tsp fajita seasoning
2 tsp lime juice
Guacamole:
3 ripe avocados
1 small red onion, finely chopped
1 tbsp finely chopped coriander
½ tsp cumin powder
¼ tsp chilli powder
Juice of 2 limes
Salt and pepper to taste
8 large tortilla wraps
Sliced mozzarella
1 ? ? cups Grated cheddar cheese
? ? cup grated mixed cheddar
Salsa
Sour Cream
Instructions
Line a cake pan with a removable bottom with parchment paper.
Make taco mix first. Heat oil in a saucepan over medium heat. Add diced onions and saute until just softened. Add beef mince and break apart into small bits with the back of a spoon until browned. Stir in garlic until aromatic. Add spices and salsa to the mix, cook for 2 minutes. Season with salt and pepper and set aside.
To make chicken fajita mix, saute onions and peppers in oil over medium heat until just caramelized and softened. Stir in the tomato paste and fajita seasoning to coat the vegetables. Add in the shredded chicken and stir to coat completely. Add water to loosen and cook to heat through, a few minutes. Set aside.
Heat a pan over medium-high heat. Add oil, sliced peppers and onions. Saute until caramelized and soft. Remove. Add the sliced steak to the pan and sear until browned. Add peppers back into the pan along with fajita seasoning. Pour in lime juice and stir to coat. Set aside.
Add one tortilla to a cake tin and top with sliced mozzarella and ? ? cup grated cheddar topped with another tortilla and press down. Top this tortilla with the taco mince and ? ? grated cheddar cheese.
Repeat with another quesadilla, fajita mix and mixed cheddar, another quesadilla, steak mix and cheddar cheese finishing with a quesadilla on top. Pressing down.
Brush the top with oil.
Bake in an oven at 180ºC for 20-30 minutes until cheese is melted through. Grill for 5 minutes until golden on top.
Meanwhile, make guacamole; mash avocados in a bowl, add red onion, spices, lime juice and season with salt and pepper.
Remove cake from the oven, add a ring of guacamole around the edge, followed by a ring of sour cream and finally the bullseye salsa in the middle.
Slice and serve.
Watch the recipe video here: