Chili-Cheese Corn Bread Poke Cake
Chili-Cheese Corn Bread Poke Cake recipe.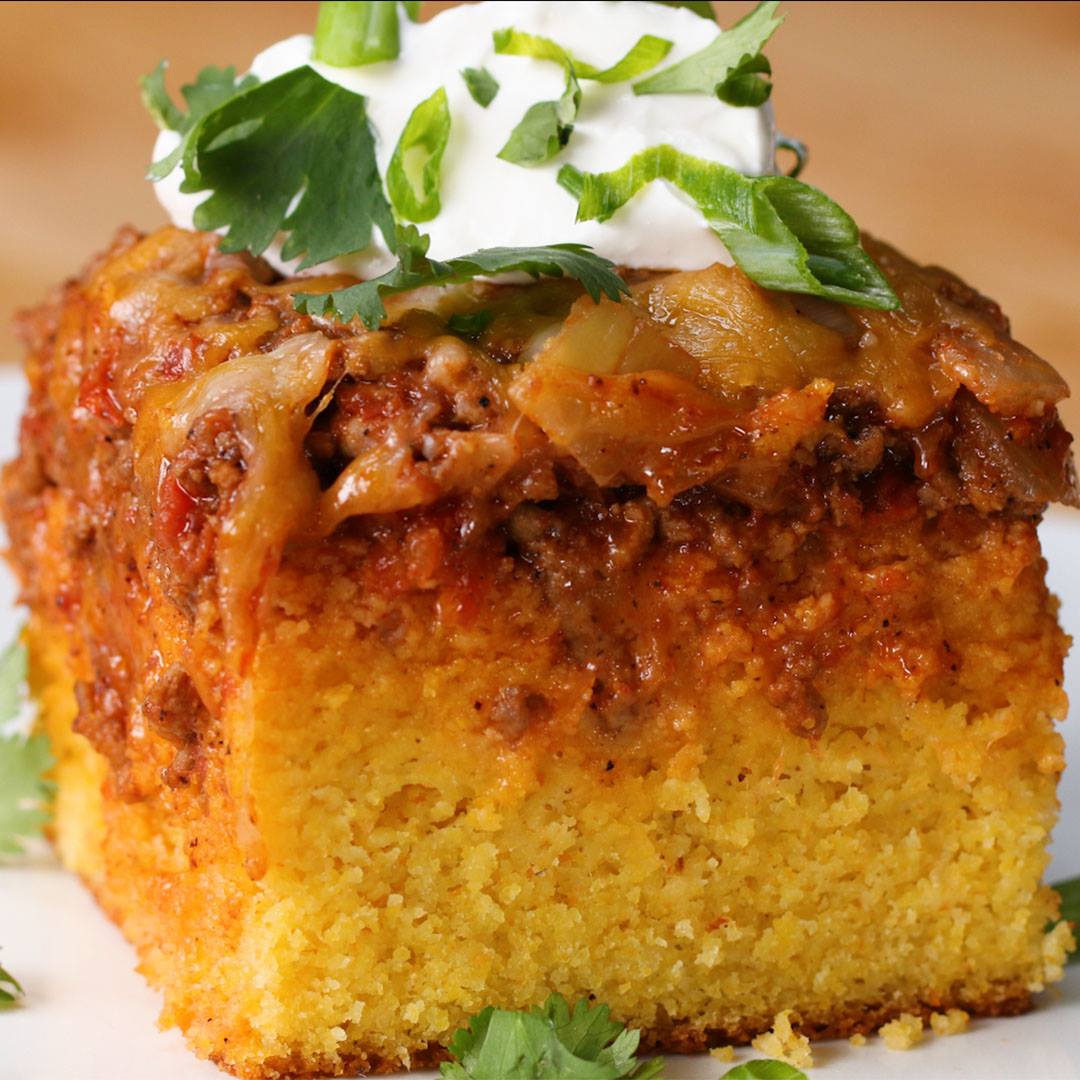 Ingredients
3 cups milk (720 mL)
3 large eggs
2 cups all-purpose flour (250 g)
3 cups yellow cornmeal (450 g)
3 teaspoons salt
3 teaspoons baking powder
1 teaspoon baking soda
10 tablespoons unsalted butter, melted
nonstick cooking spray, for greasing
2 tablespoons olive oil
1 large yellow onion, diced
2 lb ground beef (905 g)
1 tablespoon salt
2 teaspoons black pepper
2 teaspoons paprika
2 teaspoons garlic powder
2 teaspoons chili powder
2 teaspoons cumin
28 oz crushed tomato, 1 can (795 g)
1 cup shredded mexican cheese blend (100 g)
sour cream, for serving
scallion, thinly sliced, for serving
Instructions
Preheat the oven to 400°F (200°C).
In a liquid measuring cup or medium bowl, whisk the eggs and milk until well-combined.
In a large bowl, add the flour, cornmeal, salt, baking powder, and baking soda, and whisk to combine.
Make a well in the center of the dry ingredients, then pour in the wet ingredients and whisk until smooth. Add the melted butter and stir to combine.
Grease a 9x13-inch (23x33-cm) glass baking dish with nonstick spray and line with parchment paper.
Pour the cornbread batter into the pan, smoothing the top with a spatula.
Bake for 25 minutes, or until a toothpick comes out clean. Let cool for about 10 minutes.
In a large pan, heat the olive oil over medium heat. Add the onion and cook until softened, stirring frequently, about 5 minutes.
Add the ground beef and break apart with a wooden spoon into small pieces. Add the salt, pepper, paprika, garlic powder, chili powder, and cumin. Cook, stirring frequently, until the ground beef is cooked through, about 5 minutes.
Add the crushed tomatoes and stir. Simmer for 10 minutes.
Using the bottom of a utensil with a handle that is about 1-inch (2 cm) in diameter, poke multiple holes in the cornbread.
Pour the chili over the cornbread and smooth the top with a spatula. Sprinkle the cheese over the chili.
Bake for 3 minutes, or until the cheese is melted.
Slice and serve with sour cream, scallions, and cilantro.
Enjoy!
Watch the recipe video here:
Chili-Cheese Corn Bread Poke Cake

Totally making this savory poke cake for my next birthday ?Get the recipe: https://tasty.co/recipe/chili-cheese-corn-bread-poke-cake

Posted by Tasty on Saturday, August 25, 2018