Spinach and Mushroom Lasagna Roll-ups with Gorgonzola Cream Sauce
Spinach and Mushroom Lasagna Roll-ups are exactly what you need to start this week off strong.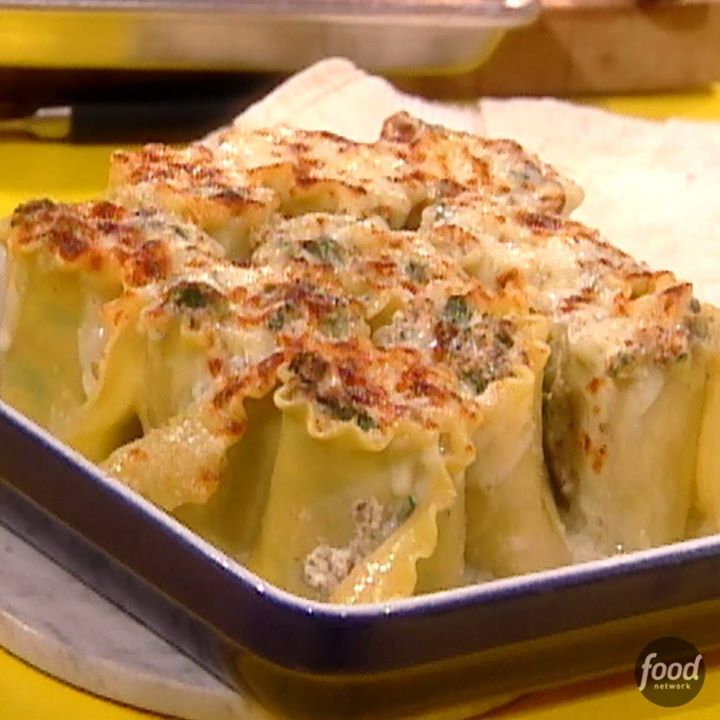 Ingredients
16 cremini caps, cleaned with a damp towel and finely chopped in food processor
1 small yellow-skinned onion, finely chopped
2 cloves garlic, minced
2 tablespoons (2 turns around the pan) extra-virgin olive oil
One 10-ounce package frozen chopped spinach, defrosted and squeezed dry
Salt and pepper
¼ teaspoon ground nutmeg or the equivalent of freshly grated
2 cups part skim ricotta
8 curly edge lasagna noodles, cooked to al dente (12 to 14 minutes)
1 cup fat free chicken broth
8 ounces Gorgonzola, crumbled
½ cup (3 turns around the pan) heavy cream
1 to 1½ cups shredded mozzarella
Serving Suggestions:
Steamed Asparagus Tips, recipe follows
Broiled Tomatoes, recipe follows
Steamed Asparagus Tips:
2 small or 1 large bundle asparagus
Broiled Tomatoes:
4 vine-ripe tomatoes
Extra-virgin olive oil
Salt and pepper
Instructions
Serving Suggestions:
In a medium skillet over moderate heat, saute mushrooms, chopped onions, and garlic in oil until mushrooms give off their juices and darken and onions are tender, about 7 or 8 minutes. Season with salt and pepper; the salt will help draw water out of the vegetables as they cook.
Add dry chopped spinach to the pan and heat through for 1 minute. Adjust seasonings with salt, pepper, and a little nutmeg. Add ricotta and stir into mixture to heat cheese through, 1 minute longer. Remove pan from heat but leave in the warm skillet.
Heat broth in a small pan over moderate heat. Melt Gorgonzola into broth and bring liquid to a bubble. Stir in cream and thicken sauce 2 minutes.
Place cooked lasagna noodles on a large work surface or cutting board. Spread lasagna noodles with a layer of spinach-mushroom filling. Roll up pasta and arrange the 8 bundles in a shallow flameproof casserole dish. Pour warm sauce over roll-ups and top with mozzarella. Place casserole under broiler to melt cheese. Serve with Steamed Asparagus and Broiled Tomatoes.
Steamed Asparagus Tips:
While you boil your lasagna noodles, place fresh asparagus tips in a small colander over the boiling water in the pasta pot. Place a lid on the colander and steam asparagus while you are cooking your pasta for 4 minutes or until tips are just tender.
Broiled Tomatoes:
Split 4 vine-ripe tomatoes across the center and drizzle with extra-virgin olive oil, salt, and pepper. Broil tomatoes.
Serve along side your completed casserole. Top with any fresh herb you have on hand: basil, thyme, or rosemary.
Watch the recipe video here: