Bacon-Wrapped Breakfast Croissant
When a normal croissant isn't sufficient, stuff it with cheesy scrambled eggs and wrap it in crispy bacon.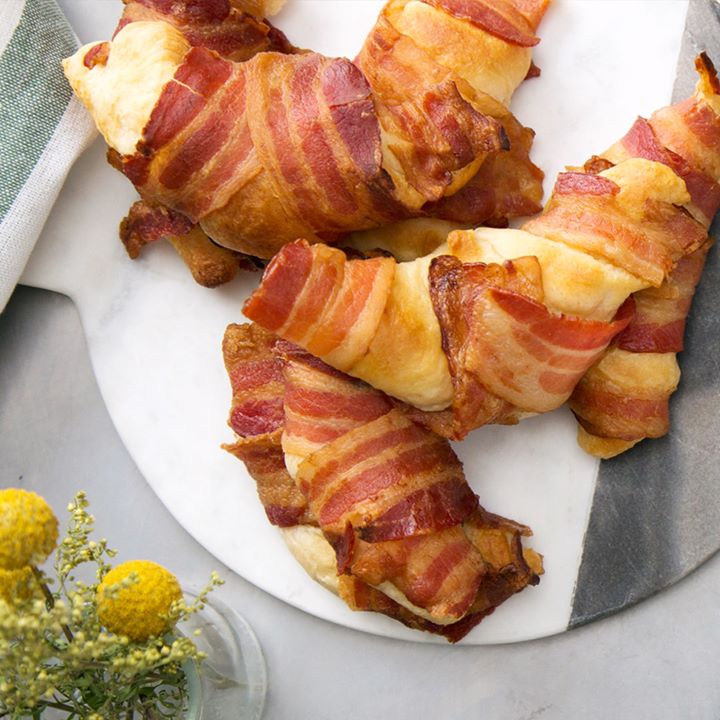 Ingredients
1 pound classic bacon
6 eggs, beaten
4 ounces shredded cheddar cheese
2 containers store-bought crescent rolls
Instructions
Prepare the bacon: Preheat the oven to 400 degrees and prepare a baking sheet with a baking rack.
Arrange bacon on the rack in a single layer. Bake for 8 to 10 minutes, until half-cooked. Remove to cool.
Make the filling: Heat a large skillet on medium. Add eggs and stir constantly until soft-scrambled. Remove from the heat and stir in cheese.
Assemble the croissants: Remove crescent rolls from package and separate triangles. On a flat surface, place 2 slices of bacon in a triangle. Place one crescent roll on top with the bacon on either side. Add about a teaspoon of egg and cheese. Roll into a croissant and curl the edges inward. Repeat until all the dough, eggs and bacon are used.
Bake for 10 to 12 minutes until dough is puffed and golden and bacon is crisp.
Watch the recipe video here: