Apple Pie Cheesecake
This apple pie cheesecake is the best of both worlds ?!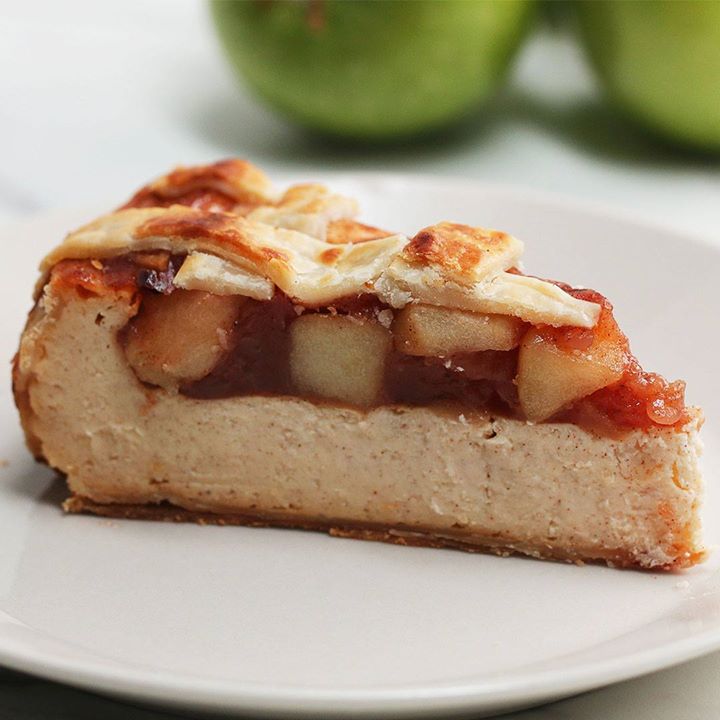 Ingredients
CHEESECAKE
2 pie crust
24 oz cream cheese
1 cup sugar
1 cup sour cream
½ teaspoon vanilla extract
½ teaspoon ground cinnamon
½ teaspoon ground nutmeg
3 egg
APPLE PIE FILLING
3 medium apple, peeled, cored and cubed
1 cup water
⅓ cup sugar
1 teaspoon ground cinnamon
½ teaspoon ground nutmeg
2 tablespoons cornstarch
Instructions
Preheat oven to 300˚F (150˚C).
Line a springform pan with a pie crust, pressing it around the sides of the pan until smooth.
In a medium bowl, beat the cream cheese, sugar, vanilla, cinnamon, and nutmeg until smooth.
Add the sour cream and mix together. Add in one egg at a time, whisking until smooth.
Pour mixture into the springform pan and bake for 1 hour and 15 minutes.
After baking, turn off the oven and let the cheesecake cool inside for 1 hour without opening the oven door.
Turn up the oven temperature to 425˚F (220˚C).
In a saucepan, add the apples, sugar, cinnamon, nutmeg, cornstarch, and water over medium-low heat. Stir occasionally until apples are soft (about 10 minutes), then remove from heat. Let cool.
Once cool, spread apple pie filling over cheesecake.
Cut the other pie crust in to ¼-inch (6 mm) strips and make a lattice pattern across the top.
Brush with egg wash.
Bake for 25 minutes, until golden brown.
Chill until set then serve.
Enjoy!
Watch the recipe video here:
This apple pie cheesecake is the best of both worlds ?!FULL RECIPE: https://tasty.co/recipe/apple-pie-cheesecakeShop the pie pan we used in this video here: http://bit.ly/2xv4p3p(Just so you know, we'll make some money if you use this link.)

Posted by Tasty on Sunday, October 29, 2017