Ultimate Easy Quesadilla Recipe
This ain't your average quesadilla.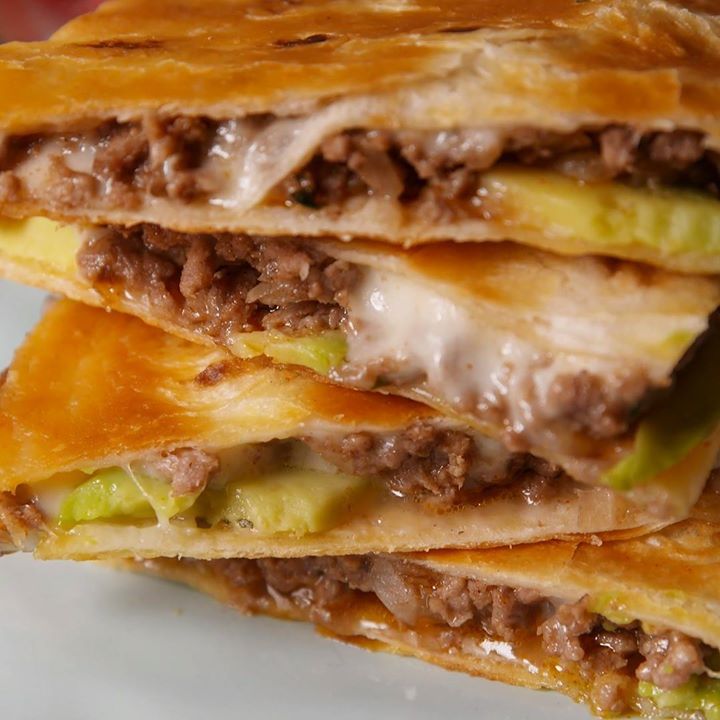 Ingredients
1 tbsp. vegetable oil
1 Onion, finely chopped
1 lb. ground beef
½ tsp. ground chili powder
½ tsp. ground paprika
½ tsp. ground cumin
8 medium flour tortillas
1½ c. Monterey Jack, shredded
1 avocado, sliced
2 tbsp. Chopped cilantro
Instructions
Heat vegetable oil in a large pan over medium heat. Sauté onions until soft. Add ground beef and spices, breaking up the meat with a wooden spoon. Stir occasionally and sauté until the meat cooked through. Remove pan from heat and drain excess fat. Season mixture with salt and pepper to taste. Clean pan and return over medium heat.
Meanwhile, assembly quesadillas. Sprinkle cheese onto 4 flour tortillas. Top with beef mixture, avocado and cilantro. Top each tortilla with a second tortilla.
Working one at a time, transfer quesadillas to the heated pan. Cook until golden-brown, about 3 minutes. When ready to flip, cover the pan with a large plate. Invert pan to transfer the quesadilla onto the plate, then slide the quesadilla back onto the pan (golden side up). Cook until golden-brown. Slice into triangles and serve warm.
Watch the recipe video here: