Get The Recipe: Deep-Fried Cookie Dough
Deep-Fried Cookie Dough! Because sometimes you just need to indulge in something delicious.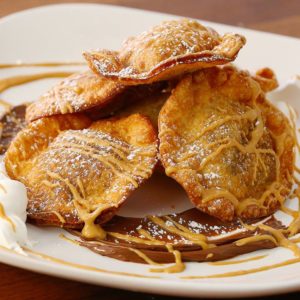 Ingredients
24 wonton wrappers
1 cup pre-made chocolate chip cookie dough
1 egg, beaten (for egg wash)
Vegetable oil for frying
Chocolate sauce, caramel sauce, whipped cream and powdered sugar for garnish
Instructions
) With a circular cookie cutter, cut wonton wrappers into a circle.
) Place one tablespoon of cookie dough in the middle of one wonton wrapper and flatten slightly. Brush a second wonton wrapper with egg wash and place it—egg wash side down—over the cookie dough. Seal the edges very well. Continue until you have 12 cookie dough wraps.
) Heat oil in a deep skillet until it reaches 350 degrees Fahrenheit. Carefully add cookie dough wraps to oil and fry for 2 to 3 minutes, or until golden brown. Make sure to flip occasionally, so everything fries evenly.
) Remove deep fried cookie dough from oil and drain on a paper towel-lined plate.
) Serve with chocolate sauce, caramel sauce, whipped cream, powdered sugar and enjoy!
Watch the recipe video here: