Oreogasm Cheesecake Bars
Ore-woah.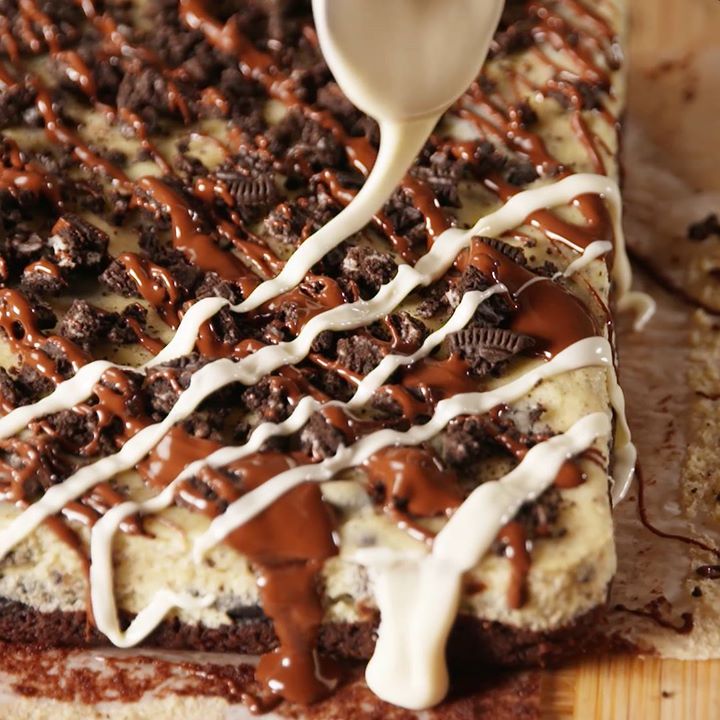 Ingredients
nonstick cooking spray
1 box fudgy brownie mix, plus ingredients called for on box
15 whole Oreos
3 8-oz. blocks cream cheese, softened
¾ c. sugar
3 large eggs
½ tsp. pure vanilla extract
pinch of kosher salt
15 Oreos, crushed
½ c. semisweet chocolate chips, melted
Instructions
Preheat oven to 350º and line a 9"-x-13" pan with parchment paper. Spray parchment with cooking spray.
Prepare brownie mix according to package directions and pour batter into prepared pan. Place Oreos on brownie batter.
Prepare cheesecake mixture: In a large bowl, beat cream cheese and cup sugar until fluffy. Add eggs, vanilla, and salt and beat until combined. Fold in crushed Oreos until fully incorporated.
Pour cheesecake mixture over brownie batter and bake until edges are set and center of cheesecake mixture is only slightly jiggly, 37 to 40 minutes.
Let cheesecake brownies cool completely in pan. Drizzle with melted chocolate and white chocolate and serve.
Watch the recipe video here: