Peachy Cookies
One bite of these pretty pastries and you'll think they came fresh off the tree instead of the cookie plate. Andrea Cuteri from Coraopolis, Pennsylvania bakes them for holidays, weddings and celebrations that call for a peach of a cookie!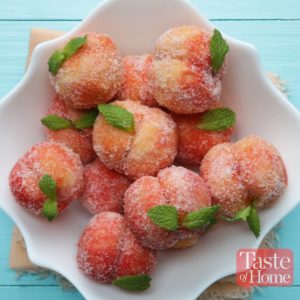 Ingredients
2 large eggs
1 cup sugar
¾ cup canola oil
½ cup 2% milk
½ teaspoon vanilla extract
4 cups all-purpose flour
¾ teaspoon baking powder
FILLING:
1 cup peach or apricot preserves
½ cup finely chopped pecans
3 ounces cream cheese, softened
2 tablespoons unsweetened instant tea
¾ teaspoon ground cinnamon
COATING:
2 packages (3 ounces each) lemon gelatin
2 packages (3 ounces each) peach or orange gelatin
2 packages (3 ounces each) strawberry gelatin
½ cup sugar
Mint leaves and additional apricot preserves
Instructions
In a large bowl, beat the eggs, sugar, oil, milk and vanilla until blended. Combine flour and baking powder; gradually beat into egg mixture.
Roll into ¾-in. balls. Place 2 in. apart on ungreased baking sheets; flatten slightly. Bake at 325° for 13-15 minutes or until firm. Remove to wire racks.
While cookies are warm, use a sharp knife and small spoon to cut and scoop out about ½ teaspoon crumbs from the bottom of each cookie; set crumbs aside (about 1-1/2 cups) for filling. Cool cookies completely.
In a small bowl, combine the filling ingredients; stir in reserved crumbs. Spoon into two cookies; spread a thin amount of filling on cookie bottoms and press together to form a peach. Repeat with remaining cookies and filling.
In a shallow bowl, combine one package each of lemon and orange gelatin powder. Place one package of strawberry gelatin powder in another bowl. Place sugar in a third bowl.
Working with one cookie at a time, spritz cookie with water. Dip in lemon gelatin mixture, then in strawberry gelatin and then in sugar; spritz with additional water and add more gelatin as needed to create desired peach blush effect. Place on a wire rack to dry for 1 hour.
Repeat with remaining cookies and packages of gelatin. Attach mint leaves to the top of each cookie with additional preserves. Store in the refrigerator.
Watch the recipe video here: