Pasteles De Queso
Did somebody say QUESO?! Watch Yolanda and Noé make Pasteles De Queso 😍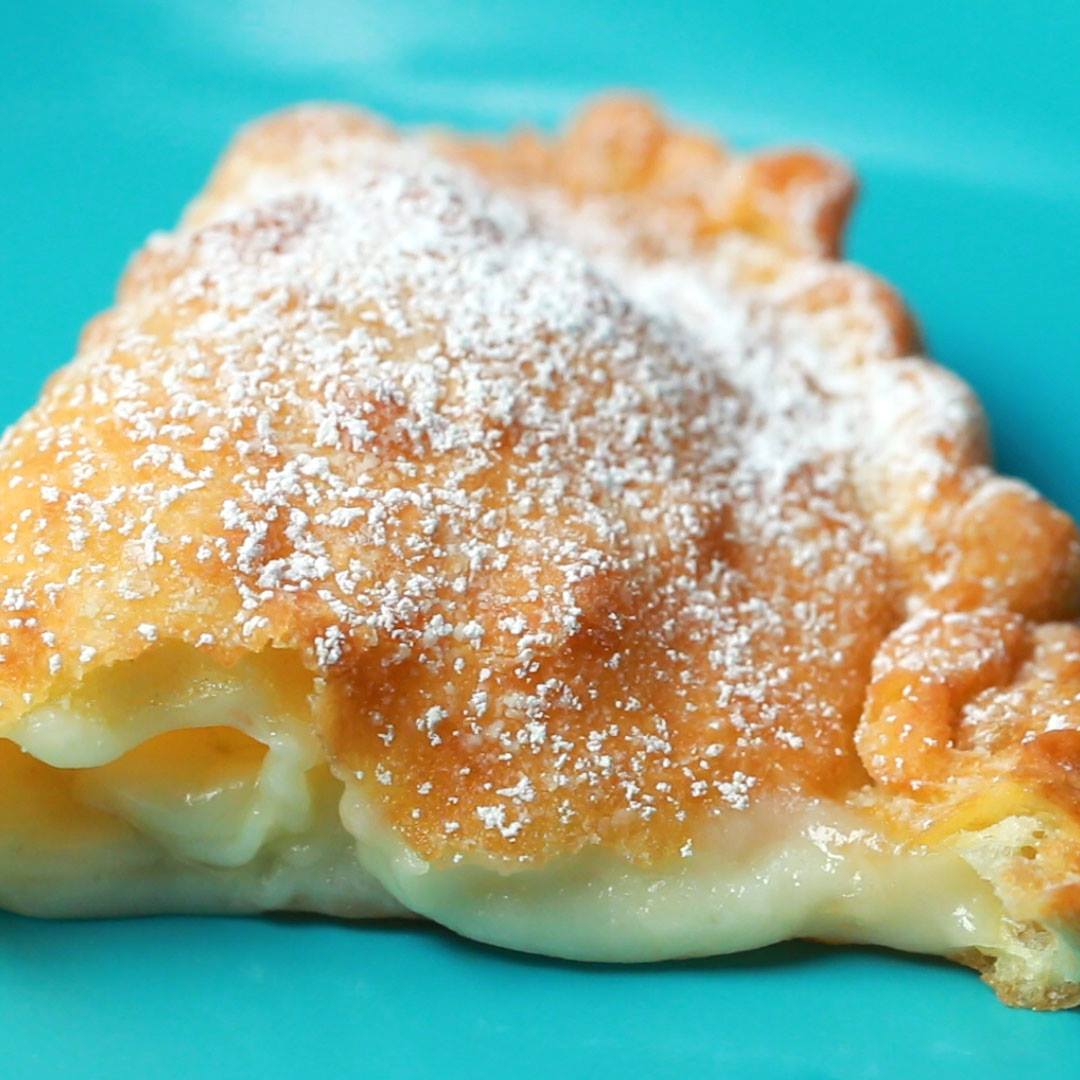 Ingredients
5 cups all-purpose flour, plus more for dusting (625 g)
1 teaspoon salt
2 teaspoons baking powder
3 teaspoons granulated sugar
2 tablespoons corn oil
5 large eggs
1 cup warm milk (240 mL)
1 ½ cups shredded mozzarella cheese, or Oaxaca cheese (150 g)
water, or beaten egg white, for sealing
canola oil, for frying
powdered sugar, for dusting
api, for serving
Instructions
In a large bowl, sift together the flour, salt, baking powder, and sugar and whisk to combine.
Add the corn oil and whisk until well combined.
In a liquid measuring cup or small bowl, lightly beat together the eggs. Add the milk.
Gradually add the egg mixture to the dry ingredients. Mix until the dough begins to come together in a ball.
Transfer the dough to a lightly floured surface and knead for 10 minutes, until smooth.
Place the dough in a floured bowl. Cover with a kitchen towel or plastic wrap and let it rest for 45 minutes, or until dough has nearly doubled in size.
Roll the dough into about 25 smaller balls, or fewer if you prefer larger pasteles. Transfer to a baking sheet and cover with a kitchen towel so the dough balls don't dry out as you roll them out.
Working 1 at a time, roll each dough ball out into ⅛-inch (3 mm) thick ovals. Use an inverted bowl to cut out circles about 4-5 inches (10-13 cm) in diameter. Discard the dough scraps.
Add about a tablespoon of Oaxaca cheese to the center of each circle. Lightly wet the edge of the dough with water, then fold in half and seal using the repulgue technique or an empanada mold cutter.
Fill a large pot with canola oil and heat to 360°F (182°C).
Add several pasteles at a time to the hot oil and fry for about 5 minutes, or until crisp and golden brown. Drain on paper towels.
Dust the hot pasteles with powdered sugar. Serve with api, if desired.
Enjoy!
Watch the recipe video here:
Yolanda And Noé's Pasteles De Queso

Did somebody say QUESO?! Watch Yolanda and Noé make Pasteles De Queso 😍FULL RECIPE: https://tasty.co/recipe/pasteles-de-queso

Posted by Tasty on Thursday, September 27, 2018