No Bake Lemon Meringue Mousse Cake
A lemon meringue pie is a thing of wonder, but we decided to elevate it by making our lemon filling beautifully airy, keeping it nice and light. This is the kind of classy dessert you would be happy to take home and meet your parents.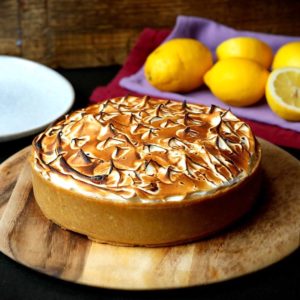 Ingredients
400g digestive biscuits, crushed
350g melted butter
350g sugar
4 tsp cornflour
160ml lemon juice
1 lemons, zest
4 eggs
4 egg yolks
150g butter, cut in cubes
75ml water
4 tsp gelatin powder
5 egg whites
170g sugar
375ml double cream
3 egg whites
150g sugar
Instructions
Put your sugar and cornstarch in a saucepan and stir to combine. Gradually pour in the lemon juice, whisking all the while so it smoothly dissolves the cornstarch. Add the eggs, yolks and butter then turn up the heat to medium and stir until the mixture thickens. Pour into a sieve set over a bowl and set aside to cool.
Combine your digestives with your melted butter, then press into the bottom and edges of a lightly greased springform cake tin. Pop in the fridge to set up for an hour.
Pour your water into a small saucepan and sprinkle the surface evenly with gelatin. Leave it to stand for 10 mins whilst it softens.
Gently warm your lemon curd in one pan and your gelatine in another. Once the gelatine has dissolved, whisk it into the lemon curd until fully combined. Pour into a large bowl.
Whisk your double cream until it can hold itself in peaks, then set aside.
Set your egg whites in a heatproof bowl over a gently simmering pan. Whisk to soft peaks, then gradually add your caster sugar and continue whisking until it is mousse and falls in soft-medium peaks.
Fold your egg white mixture into your lemon curd in a few batches, then fold through the cream.
Pour your cheesecake mixture into your biscuit tin. Pop in the fridge to set overnight.
Add your egg whites and sugar to a heatproof bowl set over a pan of gently simmering water. Whisk with an electric whisk on a high heat until the sugar has dissolved.
Remove the pan from the heat and whisk on a medium-high speed until stiff peaks form and the mixture is thick and glossy.
Pour this mixture on top of the lemon curd and arrange in peaks. Torch with a blowtorch to caramelise the meringue, then serve!
Watch the recipe video here: