New-World Stuffed Cabbage
European immigrants brought their favorite stuffed cabbage recipes to the New World in the late 19th century. Here's my take on tradition. —Katherine Stefanovich, Desert Hot Springs, California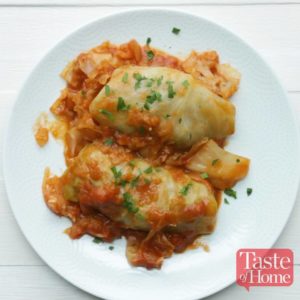 Ingredients
1 medium head cabbage
1 can (16 ounces) sauerkraut, divided
3 bacon strips, diced
1 cup finely chopped onion
2 garlic cloves, minced
¼ cup all-purpose flour
1 tablespoon Hungarian paprika
¼ teaspoon cayenne pepper
1 can (16 ounces) crushed tomatoes
2 cups beef broth
½ cup long grain rice, cooked
1 pound ground turkey
2 tablespoons chopped fresh parsley
1 teaspoon salt
½ teaspoon pepper
1 large egg, beaten
Instructions
Remove core from head of cabbage. Place in a large saucepan and cover with water. Bring to a boil; boil until outer leaves loosen from head. Lift out cabbage; remove softened leaves. Return to boiling water to soften more leaves. Repeat until all leaves are removed. Remove tough center stalk from each leaf. Set aside 12 large leaves for rolls; reserve the balance to use as the recipe directs. Spoon half of the sauerkraut into a Dutch oven; set aside.
In a heavy saucepan, fry bacon until crisp. Remove to paper towels. In drippings, saute onion and garlic until tender. Remove half to a bowl to cool. To remaining onion mixture, add flour, paprika and cayenne pepper. Cook and stir for 1 to 2 minutes. Stir in tomatoes and broth; bring to a boil. Remove from the heat and set aside. To cooled onion mixture, add rice, turkey, parsley, salt, pepper, egg and bacon; mix well.
Place 3-4 tablespoons mixture on each cabbage leaf. Roll up, tucking in sides. Place rolls, seam side down, on sauerkraut in Dutch oven. Cover with remaining sauerkraut. Chop remaining cabbage leaves; place over sauerkraut. Pour tomato mixture over all, adding water to cover if necessary. Cover and bake at 325° for about 2 hours.
Watch the recipe video here: