Monte Cristo Pull-Apart Sliders
Monte Cristo Pull-Apart Sliders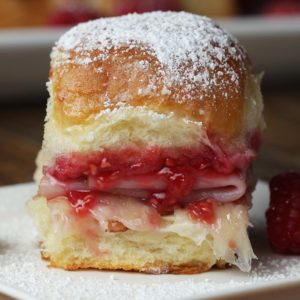 Ingredients
RASPBERRY JAM
2 cups raspberry (250 g)
½ cup granulated sugar (100 g)
2 teaspoons fresh lemon juice
SLIDERS
nonstick cooking spray, for greasing
1 package sweet hawaiian dinner rolls, 12 count
¼ lb roasted turkey, sliced (115 g)
¼ lb honey ham, sliced (115 g)
¼ lb swiss cheese, grated (110 g)
1 large egg, beaten
4 tablespoons unsalted butter, melted
powdered sugar, for dusting
Instructions
Make the raspberry jam: In a medium saucepan over medium heat, cook the raspberries for about 4 minutes, until they start to burst and become very fragrant. Add the sugar and cook, stirring constantly, for 10-15 minutes, until running a spoon through the jam leaves an open trail at the bottom of the pot. Stir in the lemon juice. Remove the pot from the heat and let the jam cool completely. Transfer to the refrigerator and chill for at least 2 hours or overnight.
Make the sliders: Preheat the oven to 325°F (160°C). Line a small baking sheet with foil, leaving enough overhang so the sides can be used as handles. Grease with nonstick spray.
Slice the sheet of Hawaiian rolls in half horizontally, leaving the individual rolls connected. Place the bottom half in the prepared baking sheet.
Layer the turkey and ham on top, making sure to fold the meat to fit inside the individual squares of the rolls, then top with the Swiss cheese.
Spread the raspberry jam over the top half of the rolls and place on top of the cheese layer, pressing down lightly.
In a small bowl, mix together the egg and melted butter. Liberally brush on top of the rolls.
Bake the sliders until the cheese is completely melted and the buns are toasted, 25-30 minutes. If the tops begin to brown too quickly, cover loosely with foil.
Remove the sliders from oven and let cool for about 10 minutes, then transfer to a serving platter. Dust lightly with powdered sugar and serve whole so the sliders can be pulled apart.
Enjoy!
Watch the recipe video here:
Make your party unforgettable with these delicious Monte Cristo sliders. Easy and sooo delicious! Get the recipe: https://tasty.co/recipe/monte-cristo-pull-apart-sliders

Posted by Tasty on Wednesday, July 10, 2019