Jalapeño Popper Hasselback Potatoes
Hasselback potatoes have domino-like slots that are perfect for filling with delicious things like bacon and cheese. These have been topped with a creamy and cheesy jalapeño popper sauce which when heated seeps deep into the slots!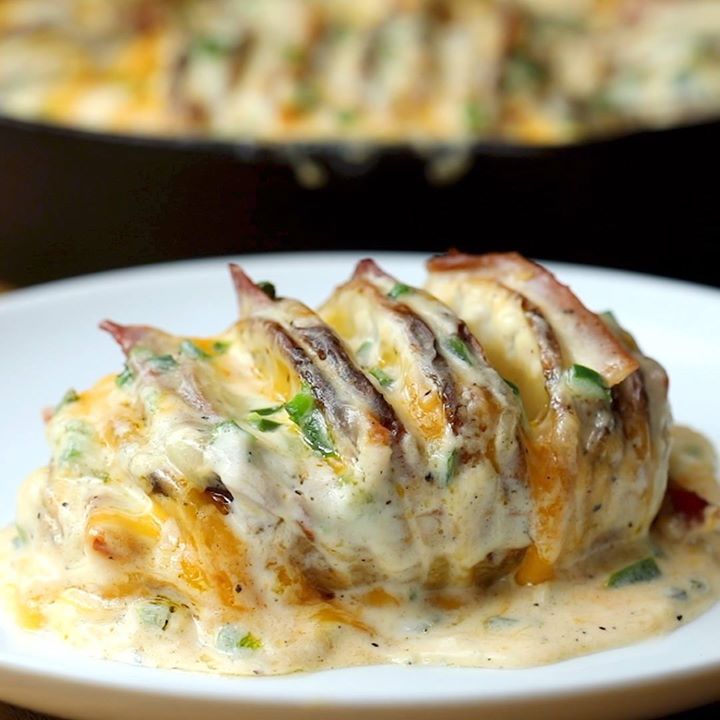 Ingredients
7 medium potatoes
2 tbsp groundnut oil
1 tbsp sea salt
½ tsp pepper
Sliced Cheddar cheese
12 rashers cooked bacon, cut into thirds
1 cup cream cheese
¾ cup cream
6 jalapeños, seeded and finely diced
½ cup grated cheddar
½ cup grated mozzarella
1 tsp salt
1 tsp pepper
Instructions
Preheat the oven to 180°C/350°F.
Cut parallel lines down the length of the potatoes - you can use two wooden spoons laid next to the potato as a guide to stop you cutting all the way through if you need to.
Lay the potatoes in a greased skillet and brush with oil and sprinkle with salt and pepper. Bake for 45minutes to 1 hour or until the potatoes are fanned out.
Meanwhile mix together cream cheese, cream, jalapeños, grated cheeses, salt and pepper until combined.
Fill each slot alternating a slice of cheddar and a slice of bacon.Top each potato with jalapeño cheese mix.
Cover with foil/parchment and bake for 20 minutes and then remove covering and bake for an additional 5 minutes.
Enjoy!
Watch the recipe video here: