Jalapeño Popper Cheeseburger Hot Dog
What to get the guy who's eaten everything? How about all the bar foods wrapped into one savory package?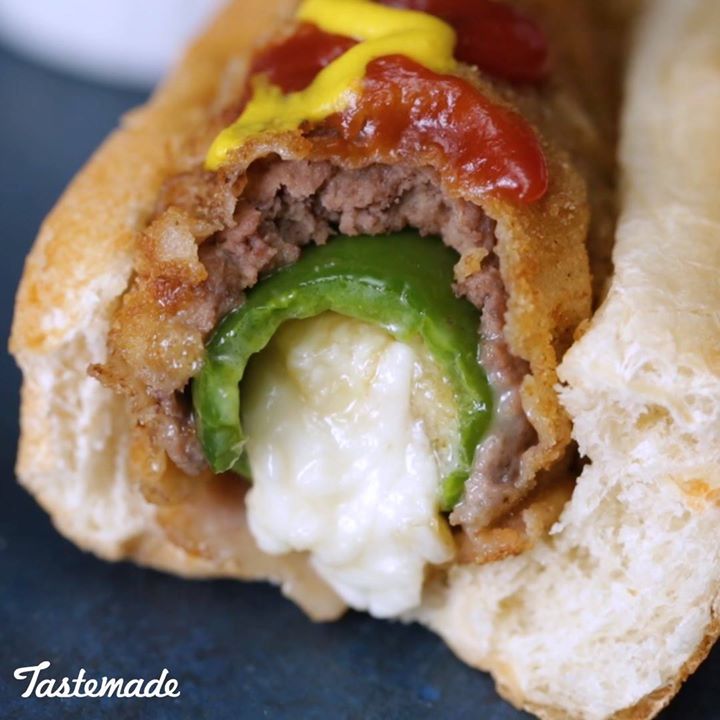 Ingredients
4 large jalapeños, as straight as possible
8 oz. ground beef
4 pieces string cheese
1 cup flour
2 eggs, beaten
2 cups plain bread crumbs
4 hot dog buns
Ketchup, for garnish
Mustard, for garnish
Instructions
Fill a large heavy bottom saucepan with 4 inches of oil. Preheat oil to 325 degrees.
Cut off the ends of jalapeño and hollow out seeds and white membrane. Stuff with string cheese. Wrap jalapeño in 2 oz. of ground beef until completely covered. Season flour and bread crumbs with salt and pepper. Dredge wrapped jalapeño in flour and shake off any excess. Next roll jalapeño in beaten egg followed by bread crumbs.
Carefully place in hot oil and cook for 5-8 minutes Drain on a paper towel lined plate. Serve in a hot dog bun with ketchup and mustard. Enjoy!
Watch the recipe video here: