Instant Pot Corndog Minis
I love that these bite-size corn dog minis aren't fried, and are totally delicious.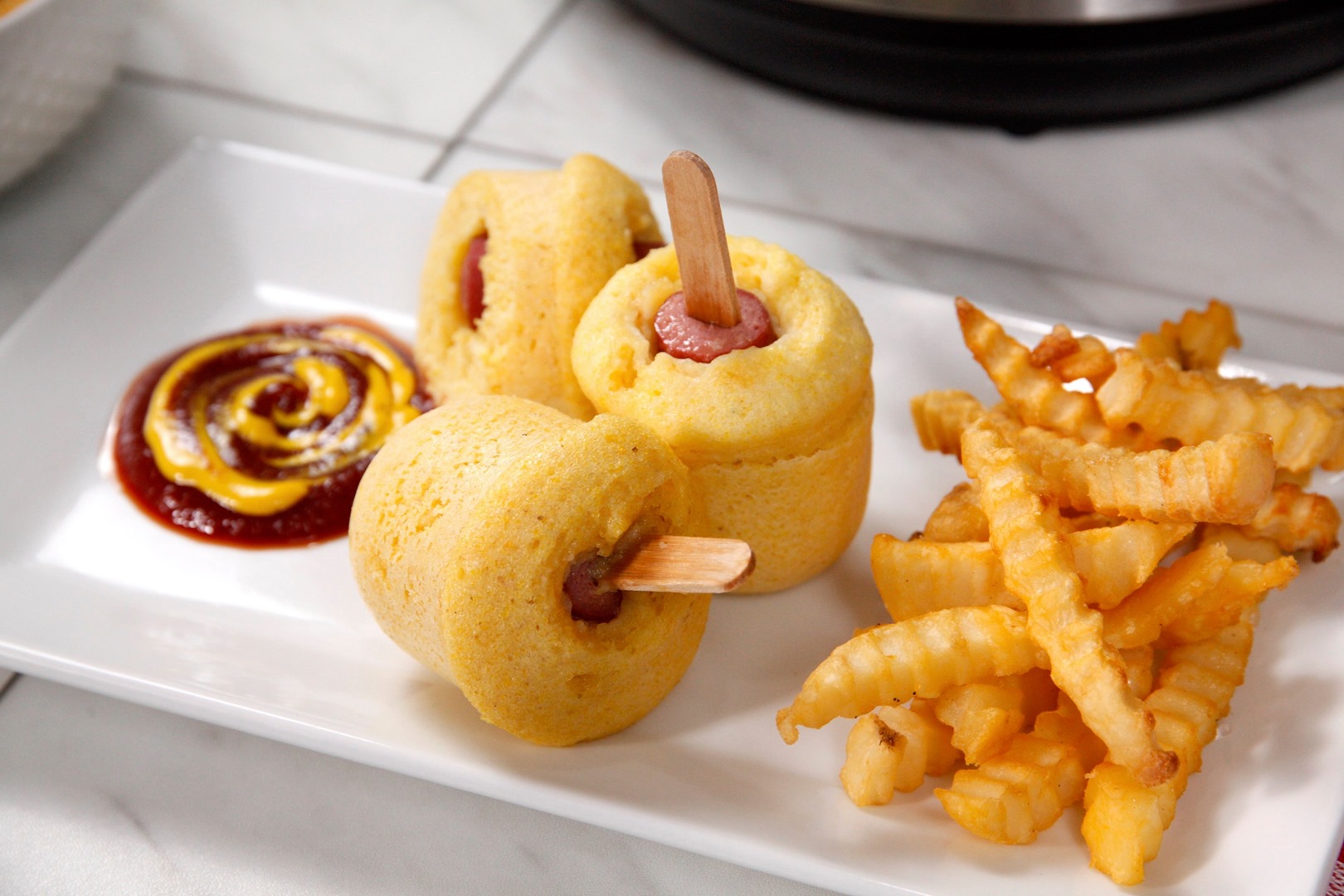 Ingredients
8.5 oz box cornbread mix, prepared
2-3 hot dog weiners, cut into 1.5" lengths
(optional) 7 popsicle sticks, cut in half with any jagged edges removed
1 cup water
Ketchup, mustard or other condiments for serving
Instructions
Prepare cornbread mix according to package directions.
Coat the inside of a silicone egg bite mold with nonstick spray (we love this one: https://amzn.to/2Q2dnyq).
(Optional) Insert a halved popsicle stick into the cut end of each hot dog segment.
Place a hot dog segment in each egg bite mold.
Divide cornbread batter amongst the egg bite molds. Tap the mold on the counter to settle the batter and remove any air pockets.
Pour one cup of water in the Instant Pot and insert the steam rack. Carefully lower the egg bite mold on to the steam rack.
Cover loosely with foil, then secure the lid, making sure the vent is closed.
Using the display panel select the MANUAL function*. Use the +/- keys and program the Instant Pot for 5 minutes.
When the time is up, let the pressure naturally release for 5 minutes, then quick-release the remaining pressure.
Unmold the corn dog bites and serve with ketchup, mustard or other condiments of your choice.
Watch the recipe video here:
I love that these bite-size corn dog minis aren't fried, and are totally delicious.RECIPE: http://chopsecrets.com/instant-pot-corndog-minis/

Posted by Chop Secrets on Wednesday, June 19, 2019