Ichigo-kun Charlotte
These strawberries like to party... in your mouth.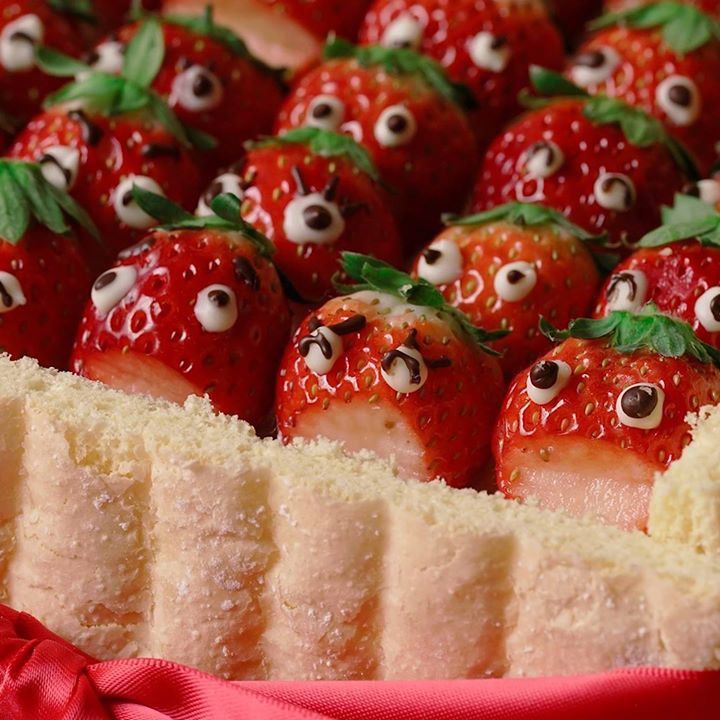 Ingredients
25 strawberries
White chocolate
Chocolate
Charlotte sponges:
6 eggs, divided
¾ cup white sugar, divided
1¼ cups flour
Pinch of powdered sugar
Strawberry mousse:
½ pound strawberries
5 tablespoons white sugar
½ tablespoon lemon juice
1 cup heavy cream
Cream:
½ cup heavy cream
1 tablespoon white sugar
Instructions
Cut a mouth out of each strawberry. Use melted chocolate to form eyes.
Make the charlotte sponges: Preheat oven to 350 degrees.
Combine egg yolks with ¼ cup white sugar. Mix until sticky. In a separate bowl, slowly add egg whites to the remaining sugar, beating vigorously until peaks form.
Add the egg white mixture to the egg yolk mixture and stir to combine. Lightly mix in flour. Place mixture in a pastry bag with a ½-inch nozzle. Squeeze out two 12-by-3-inch rectangles. Also squeeze out two 8-inch squares, which will form the base and top of the charlotte. Sprinkle each with powdered sugar.
Bake the pieces for 12 minutes. Allow to cool, then use pastries to line an 8-inch square baking pan, reserving one of the squares for the lid.
Make the strawberry mousse: In a blender, add the strawberries, sugar and lemon juice. Blend until combined. Transfer to a mixing bowl. Whip heavy cream until soft peaks form. Whisk into strawberry mixture, then pour into baking pan. Place in refrigerator until firm.
Make the cream topping: Whisk heavy cream and sugar until soft peaks form. Transfer to a pastry bag with the tip cut off. Pipe cream topping on top of the strawberry mixture, then position the strawberry faces on top. Place the lid to the charlotte on top and serve.
Watch the recipe video here:
These strawberries like to party….in your mouth.Taste for Yourself: taste.md/2JbcJLr?: Tastemade Japan

Posted by Tastemade on Saturday, April 21, 2018