Honey-Garlic Cauliflower
These sweet and spicy florets reconfirms the power of cauliflower.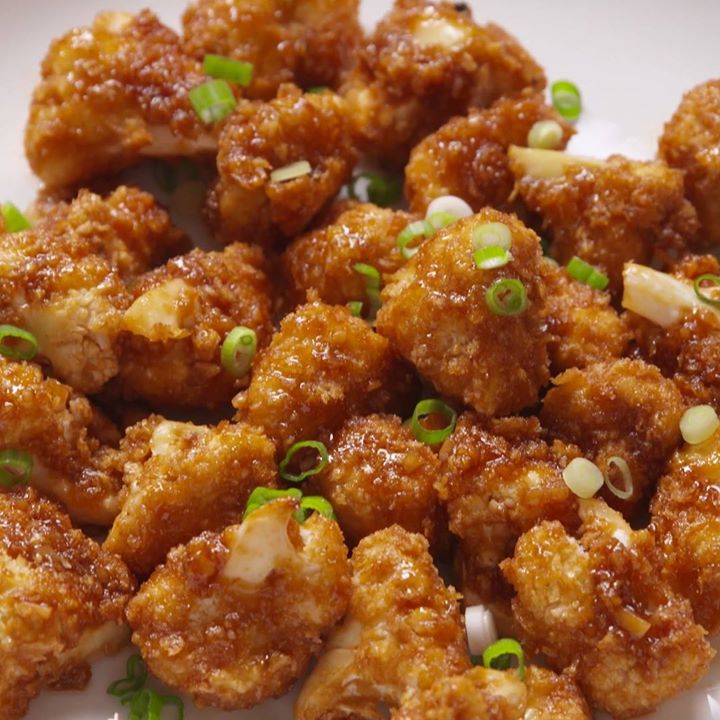 Ingredients
1 c. all-purpose flour
2 c. panko breadcrumbs
3 large eggs, beaten
1 head cauliflower, chopped into bite-size florets
⅓ c. honey
⅓ c. soy sauce
2 garlic cloves, minced
Juice of 1 lime
1 tbsp. sriracha
¼ c. water
2 tsp. corn starch
¼ c. Sliced scallions
Instructions
Preheat oven to 400 degrees F.
In a large bowl, combine flour and cauliflower, toss until fully coated. Set up a dredging station: In one bowl, add panko breadcrumbs and in another bowl whisk eggs and add 2 tablespoons water. Dip cauliflower in beaten eggs, then panko until fully coated. Transfer to a parchment-lined baking sheet and season generously with salt and pepper. Bake until golden and crispy, 20 to 25 minutes.
Meanwhile, make sauce. In a small bowl, whisk together cornstarch and water, until the cornstarch dissolves completely. Set aside. Combine soy sauce, honey, garlic, lime juice and Sriracha in a small saucepan over medium heat. When the mixture reaches a boil, reduce heat and add the cornstarch mixture. Bring to simmer again and cook until sauce thickens, about 2 minutes.
Toss cooked cauliflower in sauce until evenly coated. Return the cauliflower to baking sheet and broil for 2 minutes.
Garnish with scallions.
Watch the recipe video here: