Crab Cake Sliders with Blood Orange Aioli
Crab Cake Sliders with Blood Orange Aioli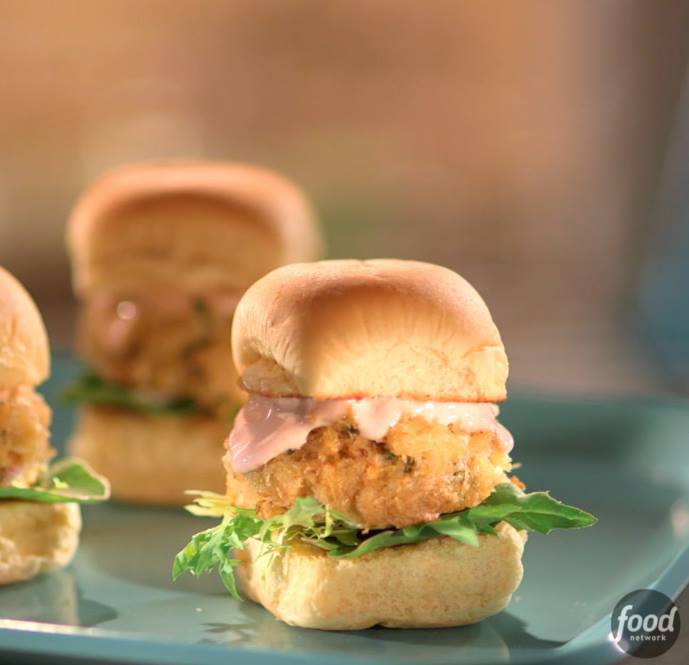 Ingredients
Blood Orange Aioli:
1 cup mayonnaise
2 to 3 tablespoons freshly squeezed blood orange juice (about ½ orange)
1 tablespoon stone-ground mustard
1 teaspoon blood orange zest
1 clove garlic, grated
Kosher salt and freshly ground black pepper
Crab Cake Sliders:
18 butter crackers, crushed (about ¾ cup)
¼ to ½ cup mayonnaise, plus more for schmearing
1 tablespoon roughly chopped fresh parsley
1½ teaspoons seafood seasoning, such as Old Bay, plus additional for garnishing
8 dashes hot sauce
1 large egg, beaten
Kosher salt and freshly ground black pepper
2 pounds lump blue crab meat, shell and cartilage picked out
Butter, for spreading
24 potato slider buns, split
Baby mesclun greens, for topping
Instructions
Preheat the oven to 350 degrees F.
For the blood orange aioli: Combine the mayonnaise, blood orange juice, mustard, zest and garlic in a mixing bowl. Season with salt and pepper.
For the crab cake sliders: In a large mixing bowl, gently combine the crackers, mayonnaise, parsley, seafood seasoning, hot sauce, egg and some salt and pepper. Gently fold in the crab meat until just combined. Lightly form 24 patties by taking 2 tablespoons of the crab mixture and rolling it into 2-inch balls, about the size of a golf ball. Place the patties on a baking sheet lined with a silicone mat. Spread each patty with ¼ teaspoon of mayonnaise, and sprinkle with additional seafood seasoning.
Bake until light golden brown, 10 to 15 minutes.
Butter each slider bun and lightly griddle to toast.
For the sandwich build: Spread the bottom half of a bun with some aioli. Place a crab cake on top. Top the cake with some mesclun greens, and finish with the top bun.
Watch the recipe video here: