Chicken Curry Naan Bowls
I've always dreamed of having naan bowls for my curry!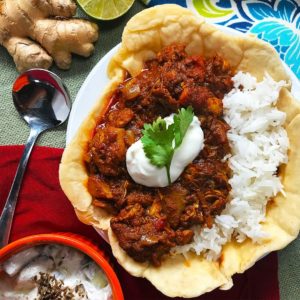 Ingredients
RED CHICKEN CURRY
2 tablespoons salt
1 tablespoon ground pepper
1 tablespoon ground cumin
1 tablespoon smoked paprika
1 tablespoon ground turmeric
1 tablespoon coriander
1 teaspoon ground cardamom
1 teaspoon dry mustard
1 teaspoon cayenne
½ teaspoon allspice
3 lb boneless, skinless chicken thighs, cut into 2 in (5 cm) cubes (1.5 g)
5 tablespoons full-fat yogurt, divided, plus more for serving
9 cloves garlic, minced, divided
1 tablespoon fresh ginger, minced
3 tablespoons olive oil, plus more as needed
3 carrots, chopped
1 white onion, chopped
1 lb yukon gold potato, chopped (455 g)
2 tablespoons tomato paste
28 oz crushed tomatoes, 1 can (795 g)
2 cups chicken broth (480 mL)
2 cups basmati rice, or long-grain jasmine, cooked, for serving (460 g)
1 fresh cilantro, for serving
Lime wedges, for serving
NAAN BOWLS
½ cup warm water (120 mL)
2 tablespoons sugar
1 tablespoon active dry yeast
4 cups all-purpose flour, plus more for dusting (500 g)
1 teaspoon baking powder
1 teaspoon baking soda
1 tablespoon kosher salt, plus more to taste
1 cup full-fat yogurt (245 g)
1 cup whole milk, room temperature (240 mL)
olive oil, for greasing
½ cup unsalted butter, 1 stick, melted (115 g)
Instructions
In a small bowl, combine the salt, pepper, cumin, smoked paprika, turmeric, coriander, cardamom, dry mustard, cayenne, and allspice. Stir to combine.
In a large bowl, add the cubed chicken thighs, 2 tablespoons of yogurt, 4 cloves of minced garlic, the ginger, and half of the spice mixture. Toss the chicken until it is fully coated. Cover the bowl with plastic wrap, and marinate in the fridge for 2 hours or overnight.
Make the naan bowls: In a liquid measuring cup, combine the warm water, sugar, and yeast. Set aside to bloom for 10 minutes.
In the meantime, mix the flour, baking powder, baking soda, and salt together in a large bowl.
To the yeast mixture, add the yogurt and milk. Stir until smooth, then pour into the dry ingredients. Stir to combine, then dump the dough out onto a floured surface and knead with your hands until it forms a smooth, soft ball, about 2 minutes.
Place the dough in a clean large bowl greased with olive oil and cover with a clean kitchen towel or plastic wrap. Let rise at room temperature until doubled in size, about 2 hours.
Heat the olive oil in a large Dutch oven over medium-high heat. Working in batches to avoid overcrowding the pot, cook the marinated chicken on all sides until cooked through and browned, about 20 minutes. Drizzle in more oil, as needed, to prevent the meat from sticking to the bottom of the pot. Transfer the browned meat to a plate as it finishes cooking and set aside.
Add the carrots, onion, potatoes, remaining 5 cloves of minced garlic, and reserved spice mixture, Stir and cook until the vegetables brown slightly and start to soften, 15 minutes.
Stir in the tomato paste and cook until aromatic, about 3 minutes.
Add the crushed tomatoes and chicken broth. Stir to combine. Bring to a simmer.
Add the chicken, stir, and return to a simmer. Cover and cook for 30 minutes, or until the potatoes are tender and the chicken is cooked through.
Stir in the remaining 3 tablespoons of yogurt, then cover and keep warm.
Once the naan dough has risen, dump onto a floured surface, and divide into 6 equal portions. Roll each portion into a ¼-inch (1 /2 cm) thick circle, approximately 10 inches (25 cm) in diameter.
Heat a large cast-iron skillet over medium-high heat. Place a disc of naan dough in the skillet. Cook for about 2 minutes, until the dough puffs up, then flip and cook on the other side until browned, 1 minute. Transfer the naan to a medium bowl and place another bowl on top. Repeat with the rest of the naan dough, stacking bowls between each round. As the naan cools, they will retain the bowl shape.
Brush the naan bowls with warm melted butter.
Fill the naan bowls with the chicken curry and rice. Serve with yogurt, cilantro, and lime wedges.
Enjoy!
Watch the recipe video here:
I've always dreamed of having naan bowls for my curry! Full Recipe: https://tasty.co/recipe/chicken-curry-naan-bowls

Posted by Tasty on Wednesday, August 14, 2019