Chicken Alfredo Lasagna
My family was growing tired of traditional red sauce lasagna, so I created this fun twist using a creamy homemade Alfredo sauce. Store-bought rotisserie chicken keeps prep simple and fast. —Caitlin MacNeilly, Uncasville, Connecticut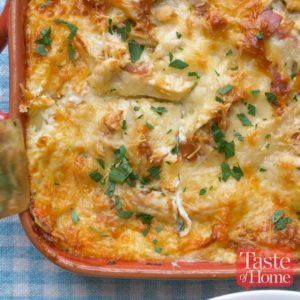 Ingredients
4 ounces thinly sliced pancetta, cut into strips
3 ounces thinly sliced prosciutto or deli ham, cut into strips
3 cups shredded rotisserie chicken
5 tablespoons unsalted butter, cubed
¼ cup all-purpose flour
4 cups whole milk
2 cups shredded Asiago cheese, divided
2 tablespoons minced fresh parsley, divided
¼ teaspoon coarsely ground pepper
Pinch ground nutmeg
9 no-cook lasagna noodles
1-1/2 cups shredded part-skim mozzarella cheese
1-1/2 cups shredded Parmesan cheese
Instructions
In a large skillet, cook pancetta and prosciutto over medium heat until browned. Drain on paper towels. Transfer to a large bowl; add chicken and toss to combine.
For sauce, in a large saucepan, melt butter over medium heat. Stir in flour until smooth; gradually whisk in milk. Bring to a boil, stirring constantly; cook and stir 1-2 minutes or until thickened. Remove from heat; stir in ½ cup Asiago cheese, 1 tablespoon parsley, pepper and nutmeg.
Preheat oven to 375°. Spread ½ cup sauce into a greased 13x9-in. baking dish. Layer with a third of each of the following: noodles, sauce, meat mixture, Asiago, mozzarella and Parmesan cheeses. Repeat layers twice.
Bake, covered, 30 minutes. Uncover; bake 15 minutes longer or until bubbly. Sprinkle with remaining parsley. Let stand 10 minutes before serving.
Watch the recipe video here: