Caramel Churro Chex Mix
First of all, can I just say that ANY puppy chow recipe is going to be fun and delicious to eat?! Especially when it's coated with cinnamon and sugar. Only the best combo ever! These were seriously gone in no time!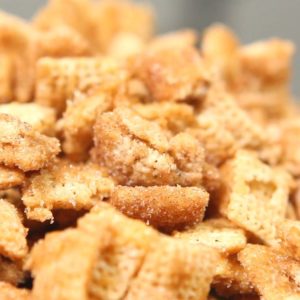 Ingredients
6 cups Rice Chex cereal
1CUP Packed brown sugar
1 Stick Salted butter
¼ CUP Light corn syrup
¼ tsp Baking soda
⅔ CUP Granulated sugar
2 tsp Ground cinnamon
Instructions
Preheat oven to 350°F
Place cereal in a large, heat safe bowl. Line a large baking sheet with foil and spray with nonstick baking spray.
In a small bowl, combine cinnamon and sugar and set aside.
In a heavy saucepan over medium heat, heat brown sugar, butter, and corn syrup until the mixture comes to a boil.
Let boil for one minute, stirring constantly, then remove from heat and stir in baking soda. Pour over cereal and stir until cereal is coated.
Spread cereal on prepared baking sheet.
Sprinkle evenly with cinnamon/sugar mixture.
Bake for about 5 minutes, then flip with a spatula and bake for 3 more minutes, until cereal turns golden brown.
Enjoy!
Watch the recipe video here: