Campfire Lasagna
What could be better after a day of hiking and wilderness than the homey comfort of a lasagna? It's easy to make right on the campfire -- and the smoke lends a little something extra to the familiar flavors.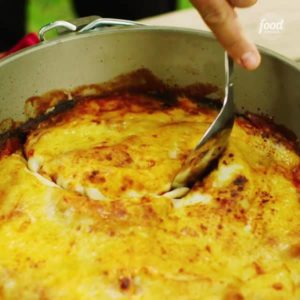 Ingredients
2 cups whole-milk ricotta
1 teaspoon Italian seasoning
1 large egg
¾ cup grated Parmesan
4 cups jarred marinara or tomato sauce
9 ounces no-boil lasagna noodles (12 noodles)
1 pound Italian sausage, casings removed and meat chopped into small pieces, optional
Two 8-ounce bags shredded mozzarella (about 4 cups)
Instructions
Special equipment:
a 12-inch 8-quart Dutch oven with a lid
Mix the ricotta, Italian seasoning, egg and ½ cup Parmesan in a medium bowl until combined.
Add ½ cup sauce and ½ cup water to the bottom of a large Dutch oven with a lid. Top with 3 noodles, breaking them as necessary to fit. Pour 1 cup sauce over the noodles and spread to cover. Dollop a third of the ricotta mixture on top of the noodles and spread it out with the back of a spoon. Sprinkle a third of the sausage on top of the ricotta if using. Sprinkle with 1 cup mozzarella. Repeat the layers 2 more times with the noodles, sauce, ricotta, sausage if using and mozzarella. Finish with another layer of noodles and the remaining ½ cup sauce. Top with the remaining 1 cup mozzarella and ¼ cup Parmesan. Cover with the lid.
Prepare coals or a campfire for cooking at medium-high heat. Arrange the coals so there is a hole in the center large enough to hold the Dutch oven without it touching any of the coals directly. Place the Dutch oven in the hole. With tongs or a shovel, place a few coals on the lid of the Dutch oven. Cook for 20 minutes, rotating the pot occasionally. Remove the coals from the lid and take the Dutch oven off the fire. Let sit, covered, for 15 minutes more. Serve immediately.
Watch the recipe video here: