Breakfast Biscuit Cups
The first time I made these biscuit cups, my husband and his assistant basketball coach came in as I was pulling them out of the oven. They loved them! —Debra Carlson, Columbus Junction, Iowa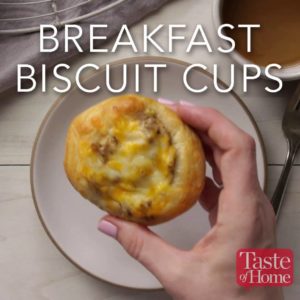 Ingredients
⅓ pound bulk pork sausage
1 tablespoon all-purpose flour
⅛ teaspoon salt
½ teaspoon pepper, divided
¾ cup plus 1 tablespoon 2% milk, divided
½ cup frozen cubed hash brown potatoes, thawed
1 tablespoon butter
2 large eggs
⅛ teaspoon garlic salt
1 can (16.3 ounces) large refrigerated flaky biscuits
½ cup shredded Colby-Monterey Jack cheese
Instructions
In a large skillet, cook sausage over medium heat until no longer pink; drain. Stir in the flour, salt and ¼ teaspoon pepper until blended; gradually add ¾ cup milk. Bring to a boil; cook and stir for 2 minutes or until thickened. Remove from the heat and set aside.
In another large skillet over medium heat, cook potatoes in butter until tender. Whisk the eggs, garlic salt and remaining milk and pepper; add to skillet. Cook and stir until almost set.
Press each biscuit onto the bottom and up the sides of eight ungreased muffin cups. Spoon the egg mixture, half the cheese, and sausage into cups; sprinkle with remaining cheese.
Bake at 375° for 18-22 minutes or until golden brown. Cool 5 minutes before removing from pan.
Freeze option: Freeze cooled biscuit cups in a freezer container, separating layers with waxed paper. To use, microwave one frozen biscuit cup on high for 50-60 seconds or until heated through.
Watch the recipe video here: