Big Apple Dumplings
This dumpling recipe was a winner in the Better Homes and Gardens October 1950 Cooks Round Table. The homemade pastry is worth the effort for this favorite dessert, and the fruit filling is super easy.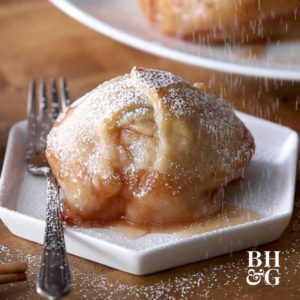 Ingredients
2 cups water
1¼ cups sugar
½ teaspoon ground cinnamon
¼ cup butter or margarine
2 cups all-purpose flour
½ teaspoon salt
⅔ cup shortening
⅓ - ½cup half-and-half, light cream, or whole milk
2 tablespoons chopped raisins or golden raisins
2 tablespoons chopped walnuts
1 tablespoon honey
2 tablespoons sugar
½ teaspoon ground cinnamon
6 small cooking apples (about 1-1/2 pounds)
1 tablespoon butter or margarine
Instructions
For sauce, in a medium saucepan combine the water, the 1-1/4 cups sugar, and ½ teaspoon cinnamon. Bring to boiling; reduce heat. Simmer, uncovered, for 5 minutes. Add the ¼ cup butter or margarine. Set aside.
Meanwhile, for pastry, combine the flour and salt. Using a pastry blender, cut in shortening until pieces are the size of small peas. Sprinkle 1 tablespoon of the half-and-half, light cream, or milk over part of the mixture; gently toss with a fork. Push moistened dough to the side of the bowl. Repeat moistening dough, using 1 tablespoon of the cream or milk at a time, until all of the dough is moistened. Form dough into a ball. On a lightly floured surface, roll dough to an 18x12-inch rectangle.* Using a pastry wheel or sharp knife, cut into six 6-inch squares.
In a small mixing bowl combine the raisins, walnuts, and honey. In another small bowl stir together the 2 tablespoons sugar and the ½ teaspoon cinnamon. Set aside.
Peel and core the apples. Place an apple on each pastry square. Fill centers of apples with raisin mixture. Sprinkle with sugar-cinnamon mixture; dot with the 1 tablespoon butter or margarine. Moisten edges of each pastry square with water; fold corners to center over apple. Pinch to seal. Place dumplings in a 2-quart rectangular baking dish. Pour sauce over dumplings. Bake in a 375 degree F oven for 35 minutes or until apples are tender and pastry is golden brown. To serve, spoon sauce over dumplings. Makes 6 servings.
Watch the recipe video here: