Apricot Bee Cheesecake Bars
These adorable cheesecake bars will give you just the buzz you were looking for.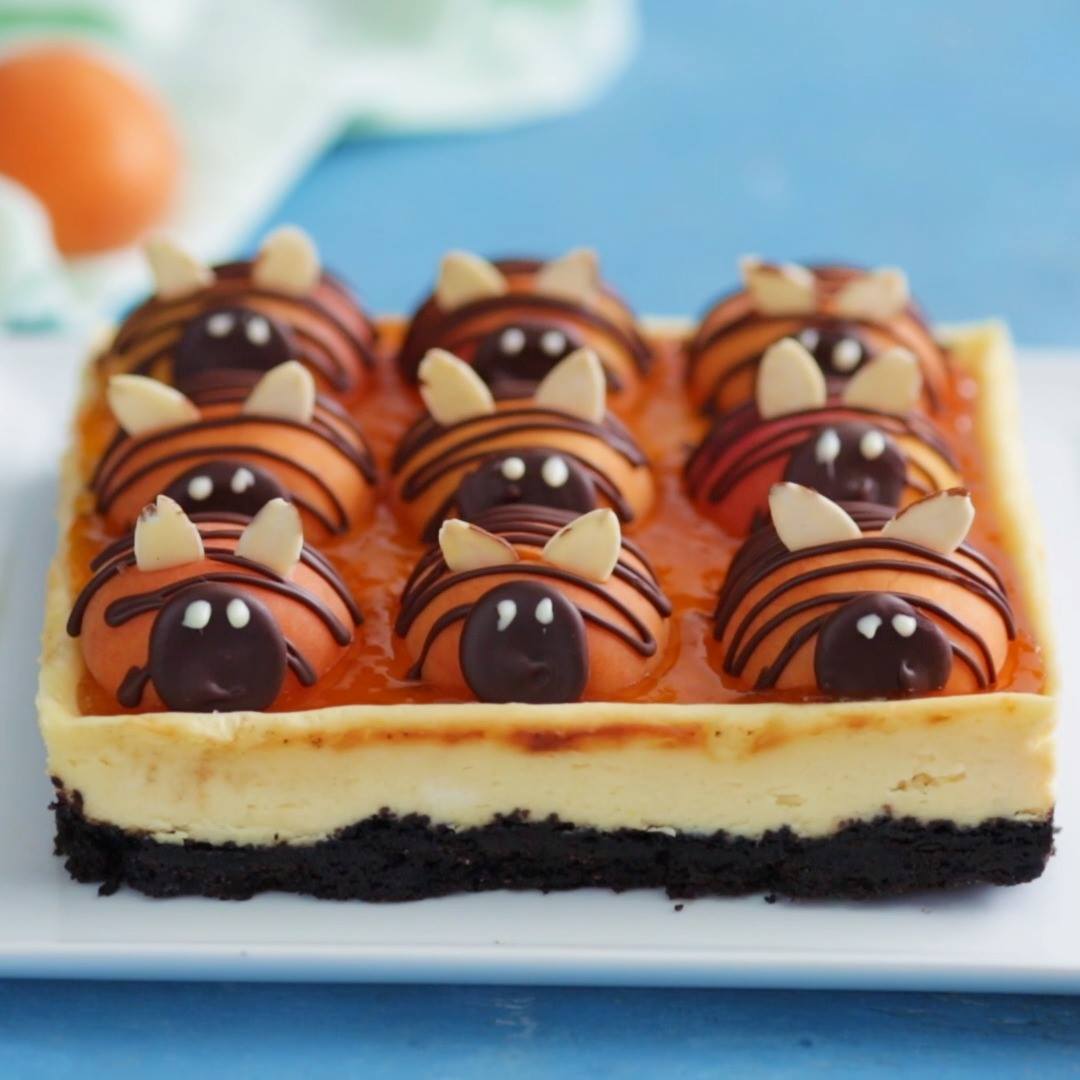 Ingredients
For the crust:
25 Oreo cookies, cream included
Pinch of salt
4 tablespoons unsalted butter, melted, plus more for greasing
For the cheesecake:
2 (8-ounce) packages cream cheese, softened to room temperature
1 cup sugar
¼ cup sour cream
1 teaspoon vanilla extract
3 large eggs
For the apricot glaze:
1 jar apricot jelly
¼ cup water (more or less as needed)
For the bees:
5 apricots, halved
½ cup semisweet chocolate, melted
¼ cup white chocolate, melted
¼ cup slivered almonds
Instructions
Preheat oven to 325 degrees. Line the base of an 8-inch square baking pan with foil, leaving 1 inch of overhang on all sides. Grease with butter.
Make the crust:
Pulse cookies in a food processor. Drizzle in butter and add salt, pulsing until the crumbs just start to come together. Alternatively, crush the cookies with a rolling pin and stir with melted butter. Press mixture into the bottom of the pan. Place the pan in the refrigerator to cool while you prep the filling.
Make the filling:
Using a stand mixer fitted with the paddle attachment on medium-low, mix the softened cream cheese and sugar until smooth. Scrape down the sides of bowl and paddle attachment with a spatula. Add the sour cream and vanilla. With the machine running, add one egg at a time, beating each for about 20 seconds before adding the next, scraping sides to make sure the mixture is well-mixed. Pour the filling over the cooled chocolate cookie crust. Bake the bars for 30 to 40 minutes.
Turn off the oven and open the door a crack. Let bars cool to room temperature for 30 minutes. Remove and let cool completely on a rack at room temperature. Chill in the refrigerator for 3 hours or up to 2 days.
Make the apricot glaze:
In a small saucepan over medium heat, add apricot jelly and a few tablespoons of water. Whisk well to break up the jelly. Add water as needed to make a smooth consistency. Set aside to cool slightly.
Make the bees:
On a parchment-lined baking sheet, place the halved apricots cut side down. Drizzle chocolate in a zigzag pattern over the top. Make 9 chocolate rounds for the heads directly on the parchment. Place in the freezer to harden the chocolate for 5 minutes. With the white chocolate, make 2 dots on the chocolate rounds for the eyes. Let cool in the freezer for 5 minutes. Remove and place a small dot of chocolate on the front of the apricot. Attach the chocolate circles. Use a sharp knife to create a slit in the top of each apricot and insert 2 sliced almonds.
Assemble:
Carefully remove the cheesecake bars by lifting out of the foil and transferring to a serving plate. Spread apricot glaze over the top of the cheesecake. Top with 9 apricot bee halves.
Watch the recipe video here:
This dessert will give you the buzz you're lookin' for.Taste for Yourself: taste.md/2sHQ5V7

Posted by Tastemade on Sunday, June 10, 2018