Meatball Stuffed Shell Pasta
Meatball Stuffed Shell Pasta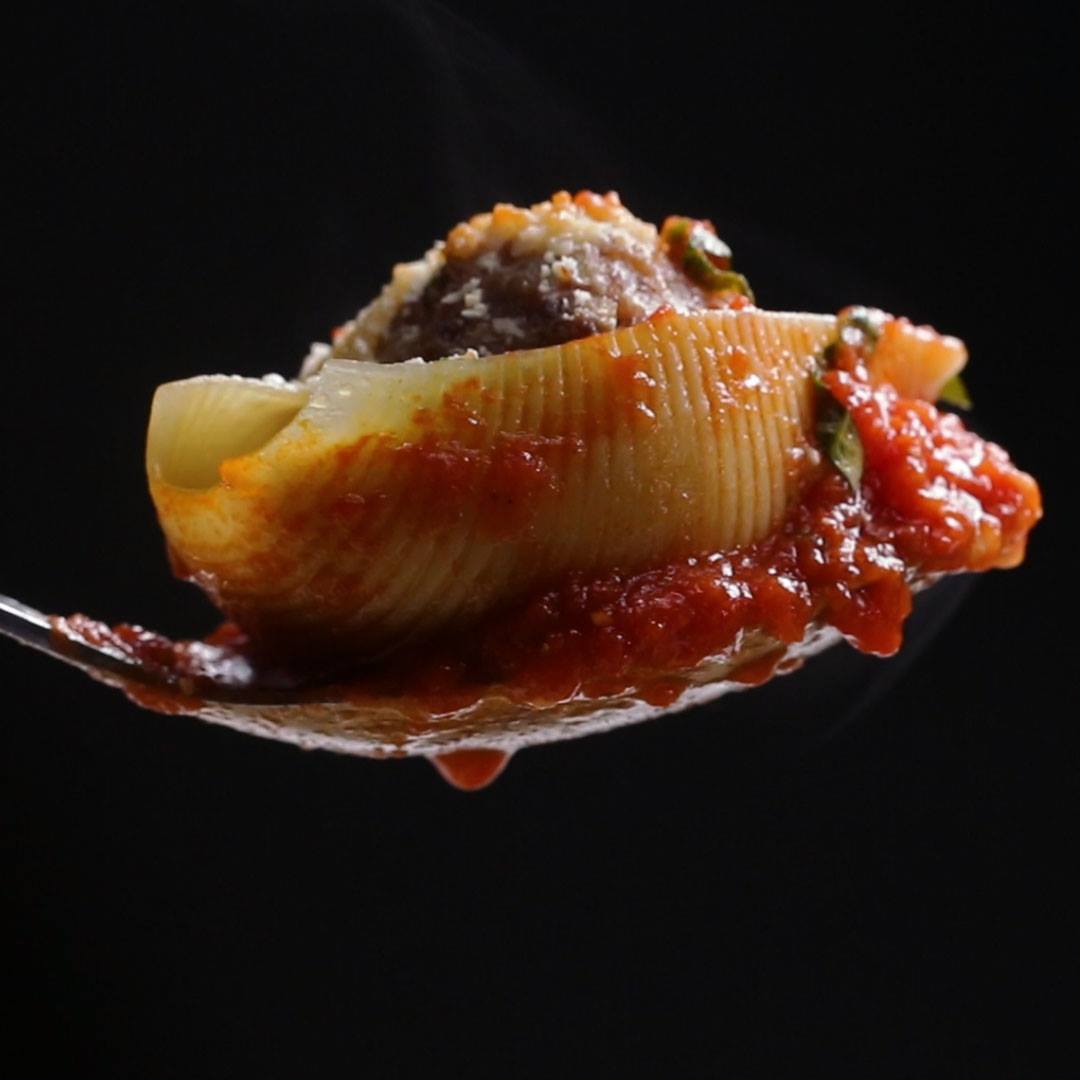 Ingredients
MEATBALLS
1 lb (455 g) ground beef
1 lb (455 g) ground pork
1 cup (50 g) panko breadcrumbs
½ cup (75 g) dried minced onion, fine
¼ cup (25 g) grated parmesan cheese
2 cloves garlic, minced
¼ cup (10 g) fresh parsley, finely chopped
2 large eggs
1 teaspoon kosher salt
pepper, to taste
RICOTTA-HERB MIXTURE
15 oz (425 g) ricotta cheese
½ cup (20 g) fresh basil, chopped
½ cup (20 g) fresh parsley, chopped
1 cup (110 g) grated parmesan cheese
1 pinch salt
12 oz (340 g) jumbo pasta shell, cooked according to package instructions
32 oz (905 g) marinara sauce
parmesan cheese, for sprinkling
fresh basil, chopped, for garnish
Instructions
In a medium bowl, mix together the beef, pork, bread crumbs, onion, Parmesan cheese, garlic, parsley, eggs, salt, and pepper until just combined.
Preheat the oven to 425°F (220°C).
Take a walnut-sized portion of the meat mixture and roll into a ball. Repeat with remaining meat and transfer to an oiled wire rack set over a baking sheet.
Bake the meatballs for 10 minutes, until golden brown.
Make the ricotta-herb mixture: combine the ricotta cheese, basil, parsley, Parmesan cheese, and salt in a medium bowl and mix well.
Stuff a tablespoon of ricotta mixture into a jumbo shells, then stuff a meatball into the shells.
Spread the marinara sauce in the bottom of a 9x13-inch (23x33-cm) casserole dish, then lay in the stuffed shells. Sprinkle Parmesan cheese on top.
Bake for 10 minutes, until the marinara sauce is warm.
Top with chopped basil.
Enjoy!
Watch the recipe video here:
This meatball stuffed shell pasta is the ultimate comfort food! ?FULL RECIPE: https://tasty.co/recipe/meatball-stuffed-shell-pasta

Posted by Proper Tasty on Monday, July 16, 2018