ONE SKILLET GROUND BEEF STROGANOFF
This one-skillet beef stroganoff by I Wash... You Dry is perfect for a hearty weeknight dinner! ?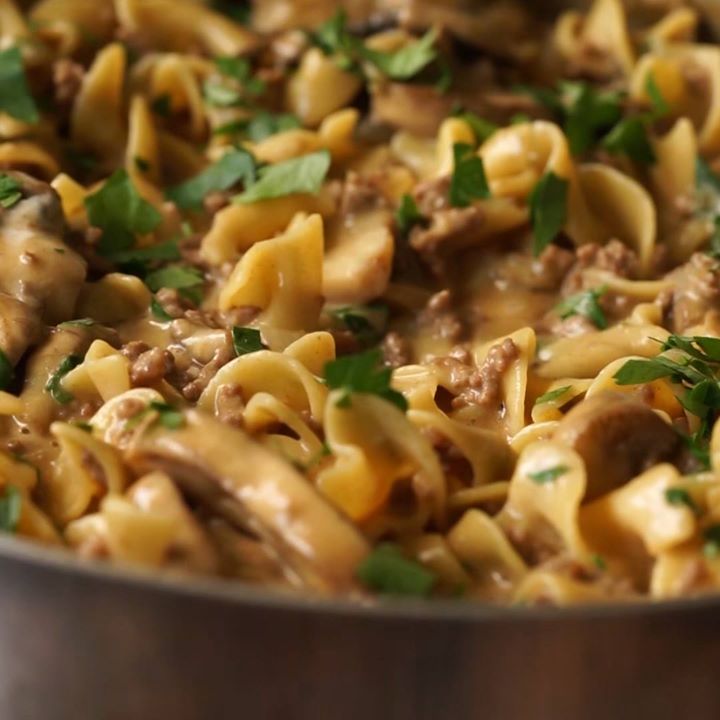 Ingredients
1 tbsp olive oil
8 oz. white button mushrooms, sliced
2 tbsp butter
½ onion, diced
1 lb. ground beef
2 tsp garlic powder
3 tbsp flour
1 tsp paprika
¼ cup dry sherry (or beef broth)
4 cups low sodium beef broth
1½ tsp salt
½ tsp black pepper
4 cups dry egg noodles
½ cup sour cream
1 to 2 tbsp freshly chopped parsley
Instructions
Add the olive oil to a large skillet (that has a lid) and sauté the mushrooms over medium heat, until tender, about 5 to 6 minutes. Remove from skillet to a plate.
Return the skillet to the stove top and melt the butter. Add the ground beef, onion and garlic powder and cook until ground beef is broken up and cooked through. Drain any fat and return skillet to stove top.
Stir in the flour and paprika until thick, about 1 to 2 minutes. Splash the dry sherry into the pan and stir, scraping any browned bits from the bottom of the pan, cooking until dry sherry is evaporated.
Gradually stir in the beef broth, salt and pepper. Bring mixture to a boil and add the egg noodles. Reduce heat to a simmer and cover. Stir often until noodles are tender, about 8 to 10 minutes. Return the mushrooms to the skillet and stir to combine.
Stir in the sour cream and freshly chopped parsley. Serve warm and enjoy!
Watch the recipe video here:
One-Skillet Beef Stroganoff by I Wash You Dry

This one-skillet beef stroganoff by I Wash… You Dry is perfect for a hearty weeknight dinner! ?Get the full recipe: https://www.iwashyoudry.com/one-skillet-ground-beef-stroganoffShop our FAVORITE skillet set right here: http://bit.ly/2kgG2nW – We may make some $$ if you buy!

Posted by Tasty on Monday, October 2, 2017